Welcome to Real!
Once your license is transferred to Real, look for a "Welcome to Real" email with your training schedule & key resources from onboarding@therealbrokerage.com.
Eager to get started?
Missed an email? Or want to onboard faster? Move at your own pace - see below for a full list of resources to get up and running at Real.
Attend Live Training
You will receive invites to our live training sessions. Missed something? Click the links below to register.
United States:
Attend reZEN Training - Wednesdays @ 2 PM EST - REGISTER

Attend Marketing Onboarding - Thursdays @ 4 PM EST -

REGISTER
Canada:
Mandatory Agent Success Training: Mondays @ 12pm ET - REGISTER
Attend Canada reZEN Training: Mondays @ 4pm ET - REGISTER

Attend Marketing Onboarding - Thursdays @ 4 PM EST -

REGISTER
Can't make a live session?
Watch pre-recorded training on Real Academy:
Get up and Running in reZEN
With reZEN, you have the power to manage your business. Learn more: What is reZEN?
Complete the following:
Please bookmark the desktop version of reZEN: https://bolt.therealbrokerage.com/

Then, login to complete your reZEN profile setup and Payment & Tax Onboarding. The system will walk you through the steps, but just in case:
Once you complete these items, everything you need to get up and running is in your onboarding checklist.
Your Onboarding Checklist
We are changing the real estate industry—and along with it, the way you join a new brokerage. We created a brokerage that gives you the tools to get up and running the way YOU want.
Once you are active with Real, you will be able to access your Onboarding Checklist in reZEN. This walks you through the key steps to transition to Real—so you can move at the pace that works best for you. How do I access my Onboarding Checklist?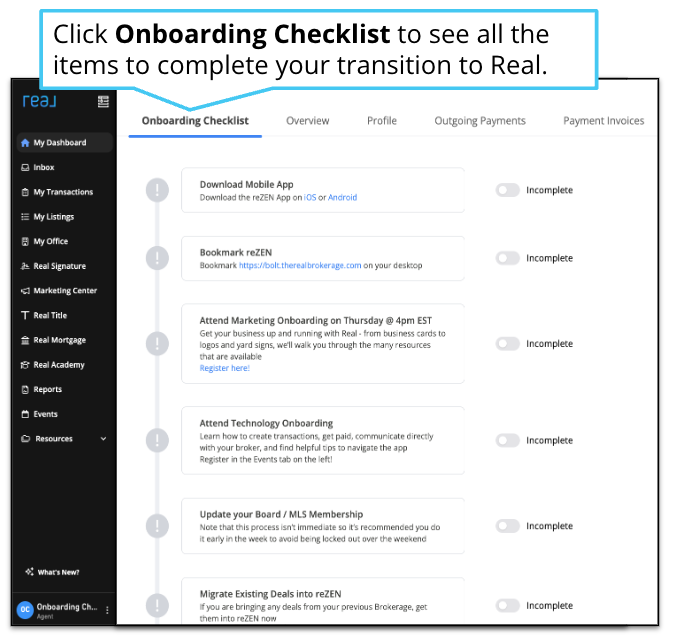 Migrate Your Marketing
You're now part of an incredible brokerage—and it's time to let the world know! Make sure to complete the activities below for a seamless brand experience.
Order Business Cards
Go to Real's ProShop to order pre-designed business cards in black or white.
Order Signage
Go to Real's Signage Store for yard sign panels, riders, open house signs—and other materials!
Update Your Digital Presence
Download the Real logo here and make sure you have the correct brokerage name, contact information, and logos on all your marketing touchpoints:

Website, blogs, etc.

All social media platforms—change bio and name displays

Brokerage Information in your MLS profile, bio, and signature

Voicemail greeting

ZipForms profile and settings

CRM, drip campaign, or email automation

Third-party sites you use (e.g. Zillow, Realtor.com)

Email signature
Announce Your Move!
Share the excitement with your community. Choose from one of our announcement templates, customize with your information, then post on social!
BONUS: Go a step further with branded banners for your social sites.
Join the Real Community on Workplace
Check your email for an invitation from notification@fbworkmail.com to Join Real's Workplace Group. Then, head to realbroker.workplace.com to access our incredible community of agents.
Learn More:
Real's Lead Programs
Real gives you the flexibility to choose the CRM that's best for your business. Learn about two of our most popular offerings, Chime & Referral Central. PLUS find out how to access our incredible community of agents to learn best practices to capture and nurture leads.
Start collecting leads with Real's CRM partner, Chime.

Real partnered with Chime to give you access to a customer relationship management and lead generation tool specific to the real estate industry for a fraction of the price. How Do I Sign Up for Chime?
Build your Pipeline with ReadyConnect Concierge (formerly OpCity). ReadyConnect Concierge provides pre-screened real estate leads at no upfront cost. All Real agents are eligible to sign up. Opcity: How Do I Get Opcity?
Learn how Elite Agents generate leads. Learn how some of our most successful agents generate, capture, and nurture leads. Join a live upcoming training—at no cost to you. How do I login to Real Academy?
Build your Brand
We put marketing tools in YOUR hands—with hundreds of templates to support your business and partnerships to get you quality materials at the lowest price. Check out the resources below—and add them to your marketing toolkit.
Level Up with Real Academy
We are excited to invite you to Real Academy— Real's education and training department. Real Academy is all about collaboration and it is where agents help agents succeed. Login directly from reZEN: How do I login to Real Academy?
Learn about Real's Health Insurance Options
As part of the Real community, you have access to Real Agent Benefits, a selection of insurance plans at a variety of price points curated with independent contractors in mind. How do I get more information about Real Agent Benefits?
Keep More of your Commission: Capping & Elite Agent Program
When Real agents are successful, Real is successful. For this reason, we built a brokerage that gives back to successful agents—with generous caps and our Elite Agent program.
reZEN works for you: Documents + Real Signature
Everything you need for your business is available in reZEN. As CTO Pritesh Damani says: Just #OTA—open the app! reZEN puts you in control of documents with:
Real Signature to create templates and manage signatures—all in one place

Transaction Checklist to keep you moving through the process

File Cabinet to keep documents organized
reZEN works for you: Real Deposits + Closing
Remember, everything you need for your business is available in reZEN. Just #OTA—open the app! reZEN puts you in control of closing:
Use Real Deposits to digitally deposit funds

Upload closing documents directly to your Transaction Checklist

Track Closing Funds and Outgoing Payments
reZEN works for you: Referrals
Whether you're doing your first referral—or building a referral based business, reZEN makes it easy to stay on top of your referrals. With reZEN, you can see your referrals in one place, easily track your revenue, and stay on top of action items.

How to Share Real
Real is built for agents, by agents.
Unlike other brokerages that spend millions to attract, recruit, and retain agents, we invest our marketing dollars in our agents.
Our Revenue Share Program is one of the most competitive in the industry—with up to 60% of revenue invested back into the agents who are growing the company. You will start earning as soon as you Sponsor an agent and they begin closing deals at Real.