Welcome!
Once your license is transferred to Real and you are officially a Real agent, you will need to complete your profile setup in reZEN. This is a great way to let the Real team know who you are; setup your landing page on OneReal.com; and get your bank & tax information setup - so our team can pay you!
Before you get started:
You will need the following to complete this process:
A professional photo
Your account information
Your Bank account information (so we can pay you)
Your SSN or EIN (if paid as an entity.
Step 1: Login to reZEN with the email / username you used to complete your application.
Step 2: Once you login, you'll see a message to start your profile. Click Let's Start.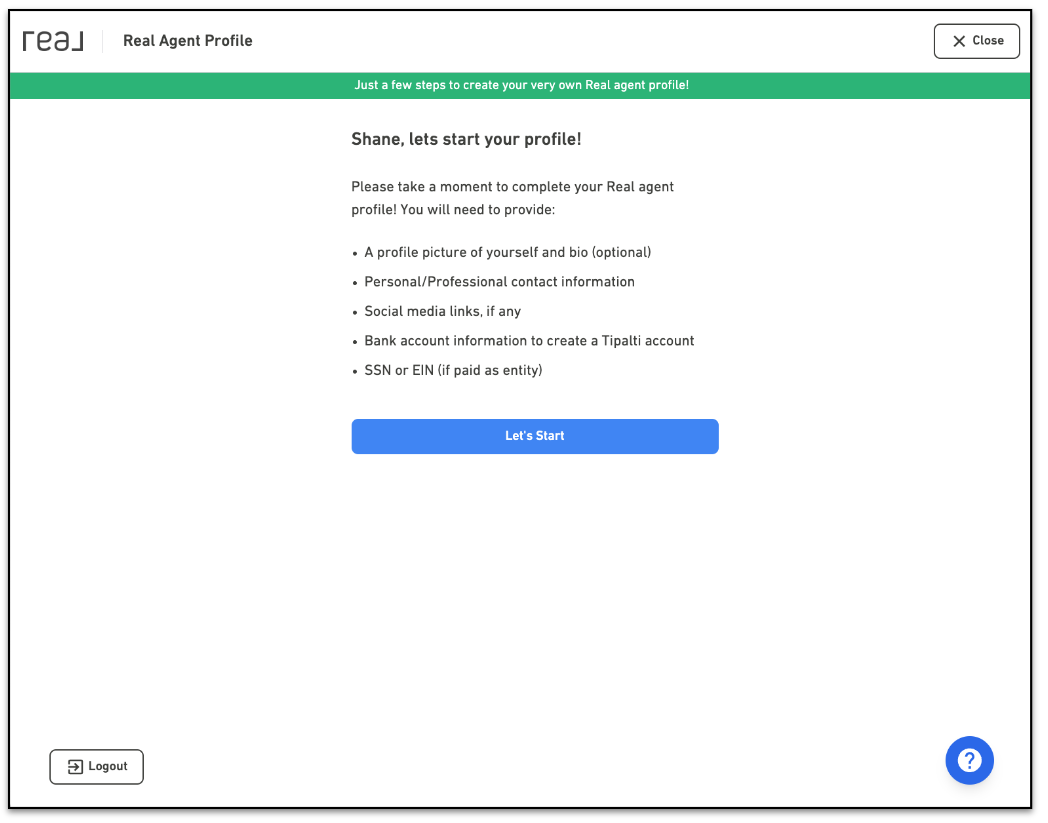 Step 3: Upload your professional photo and enter a little information about yourself. This will be used internally to let the Real Team know who you are - and will also appear on your client-facing landing page on OneReal.com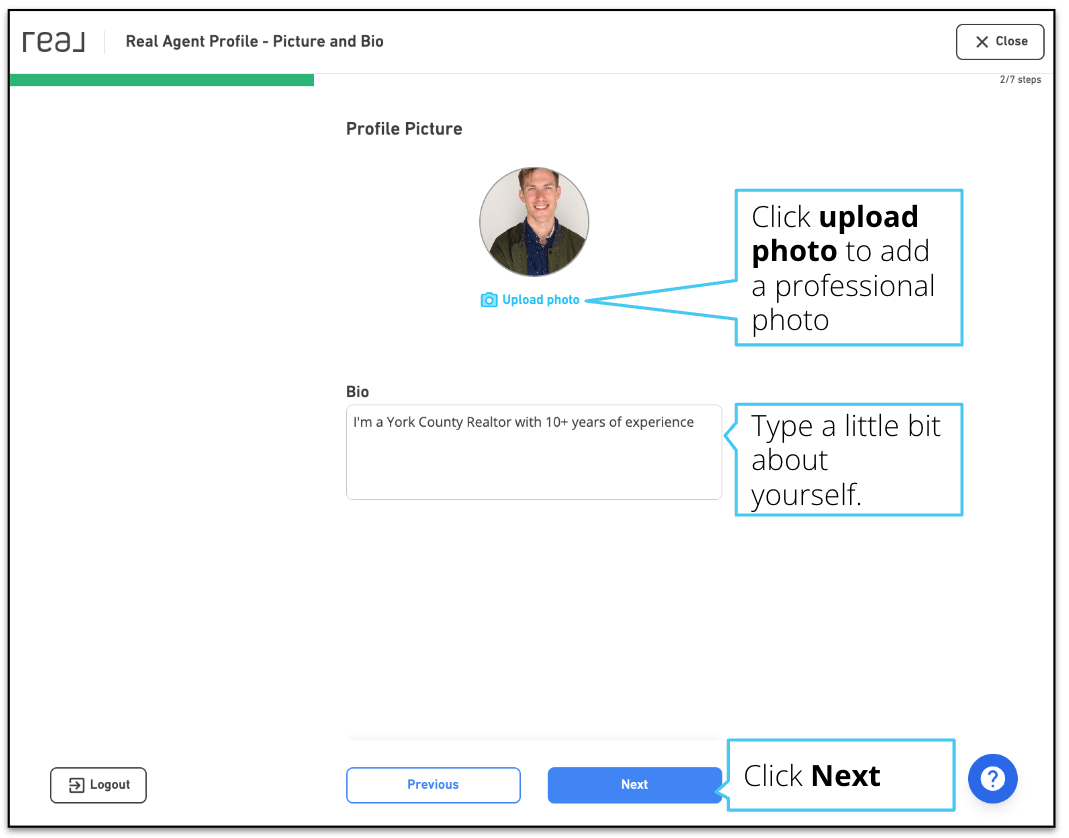 Step 4: Enter your mailing address then click Next. Our main form of communication is email, but if we ever need to send something by mail, this is helpful.
Select Office if you work out of an Office (vs. Home). Please do not enter the Real Corporate Office (we already know that!)
Select Mailing if you only use this address to receive mail (e.g. PO Box)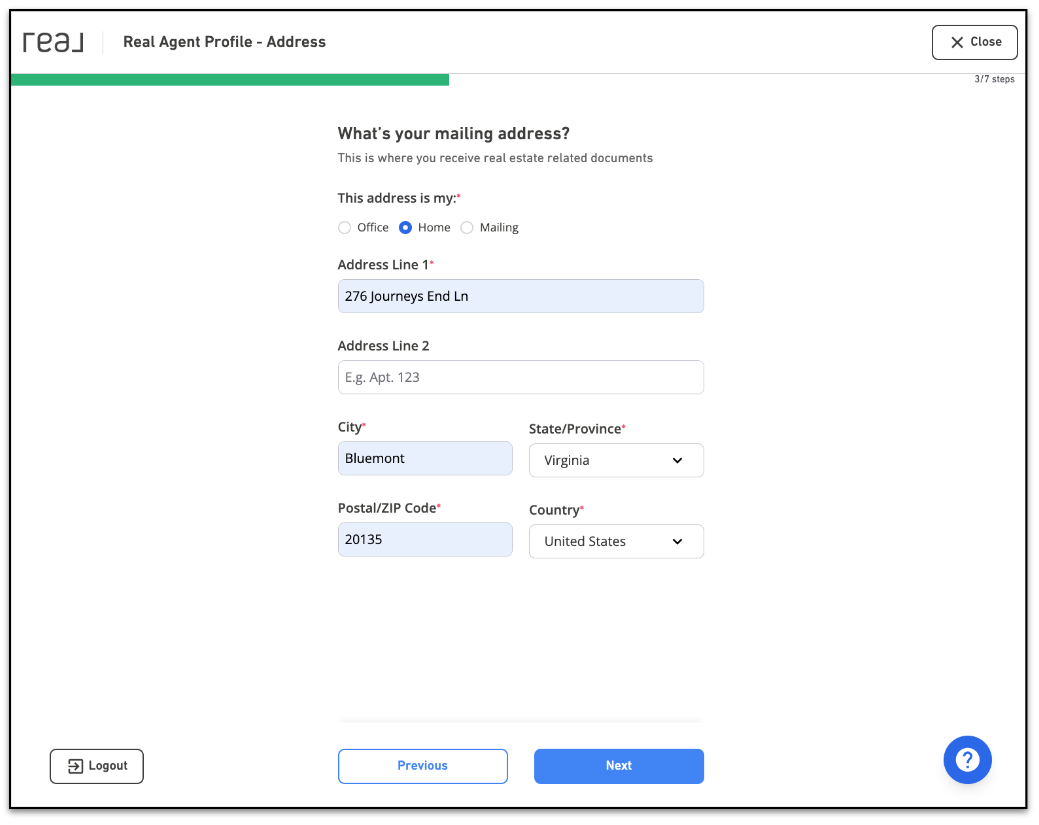 Step 5: Enter your Title, Business and Personal Phone Number, your specialization, and languages spoken.
Real will provide your business phone number to clients who call about your listings or want to speak with you about an active deal.
We do not provide your personal number externally. Your Broker and Real may use your Personal Number for time sensitive matters (e.g. your attention required on compliance issue or urgent deal).
If you are a Broker or have special titles, please update your Title. Otherwise, Realtor or Licensed Realtor works great.
Your Title and the information about who you work with will appear on OneReal.com so buyers and sellers have an idea of your specialties.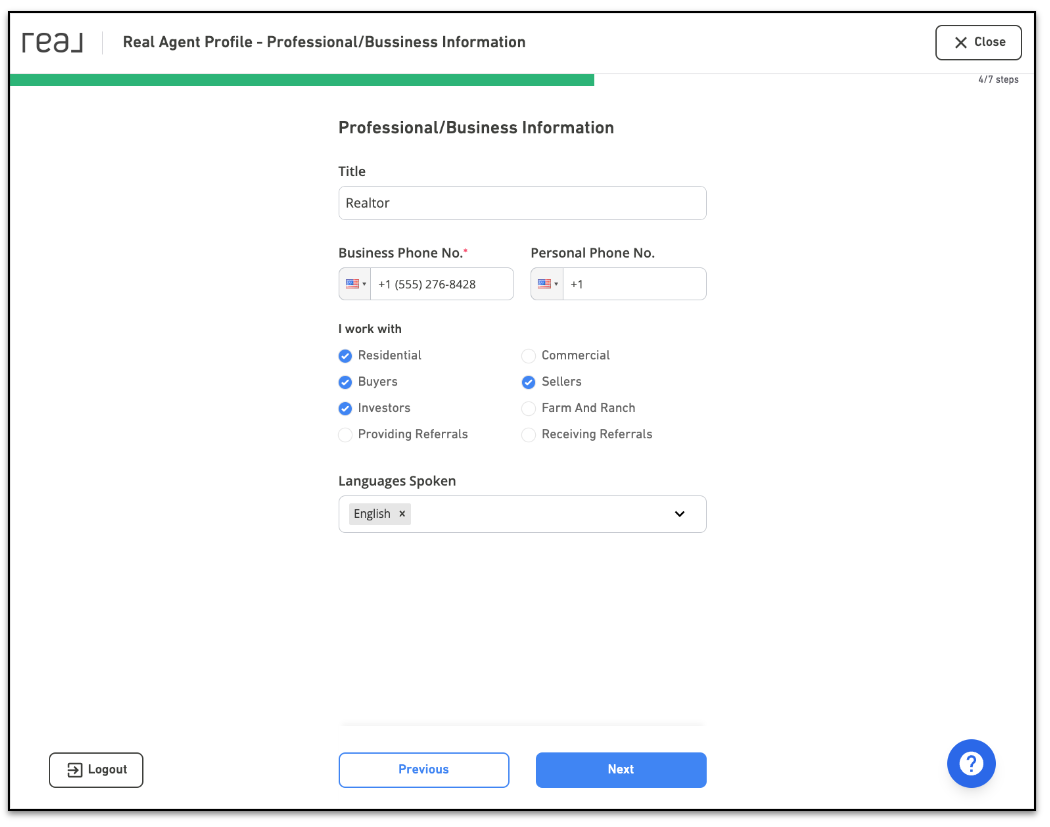 Step 6: Add your social media links then click Next. This is optional, but this will allow clients to find your social media pages on your onereal.com landing page.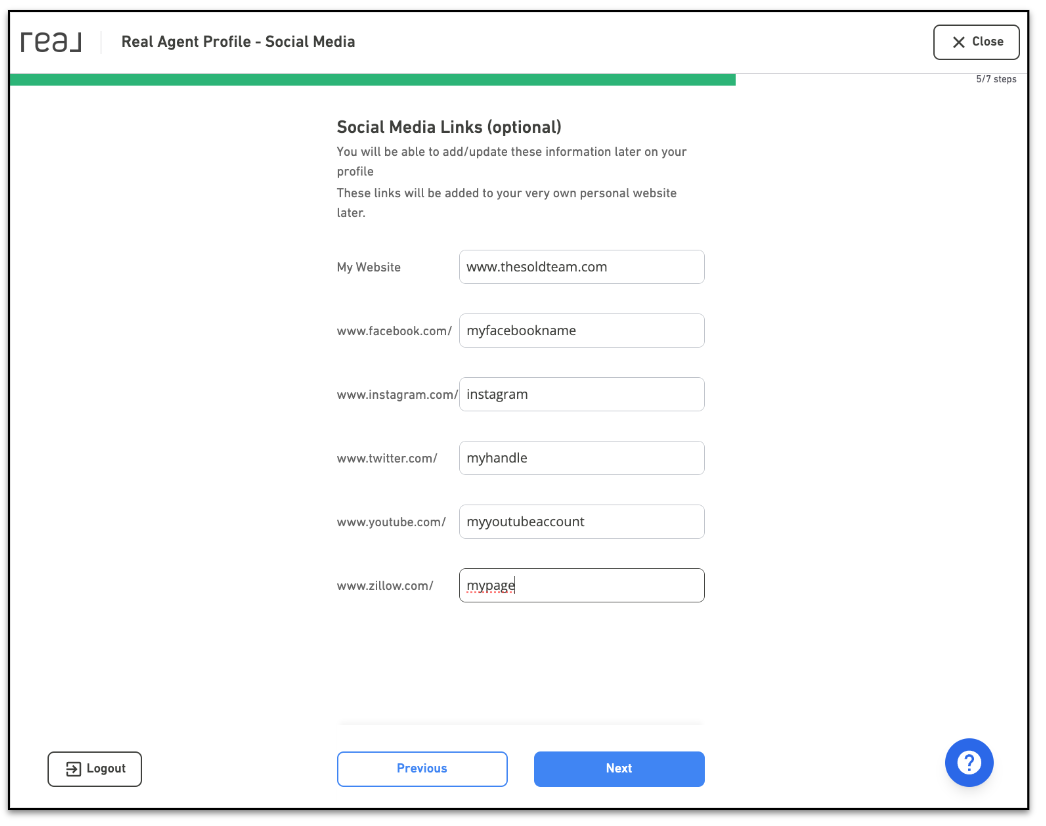 Step 7: Let us know if you want to subscribe to Chime, our CRM partner, then click Next.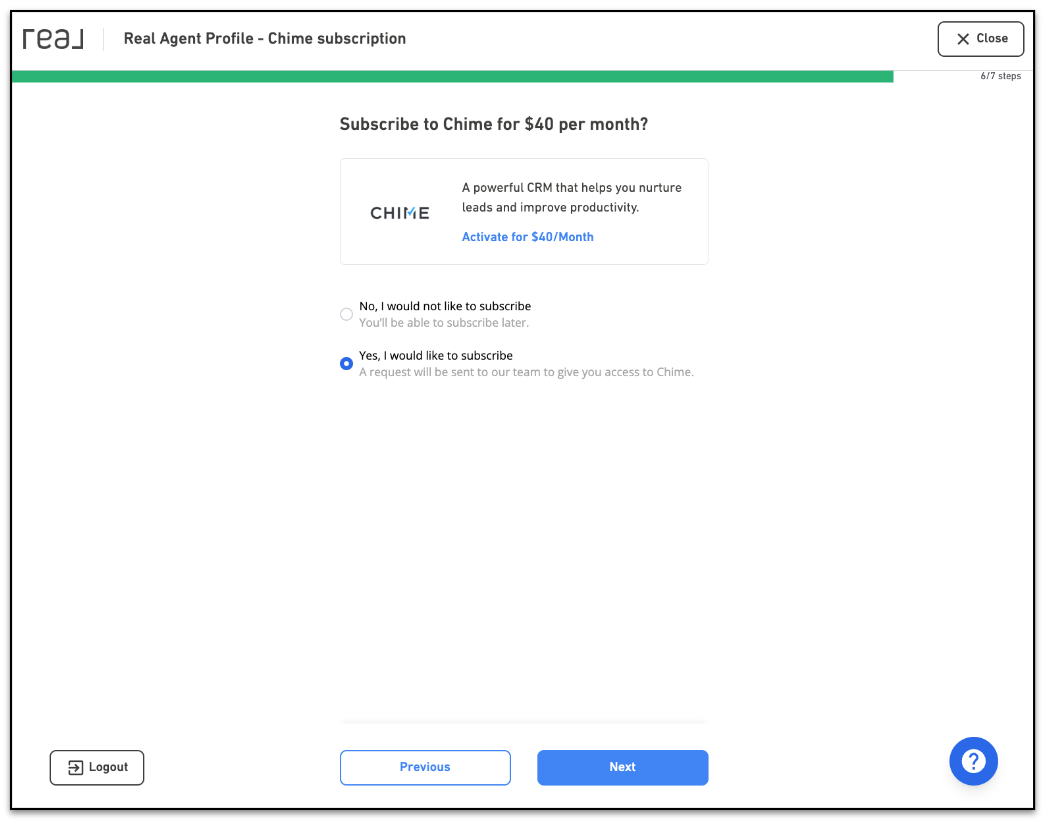 Step 8: Review all your information, then click Submit. You'll be asked to confirm - click Yes.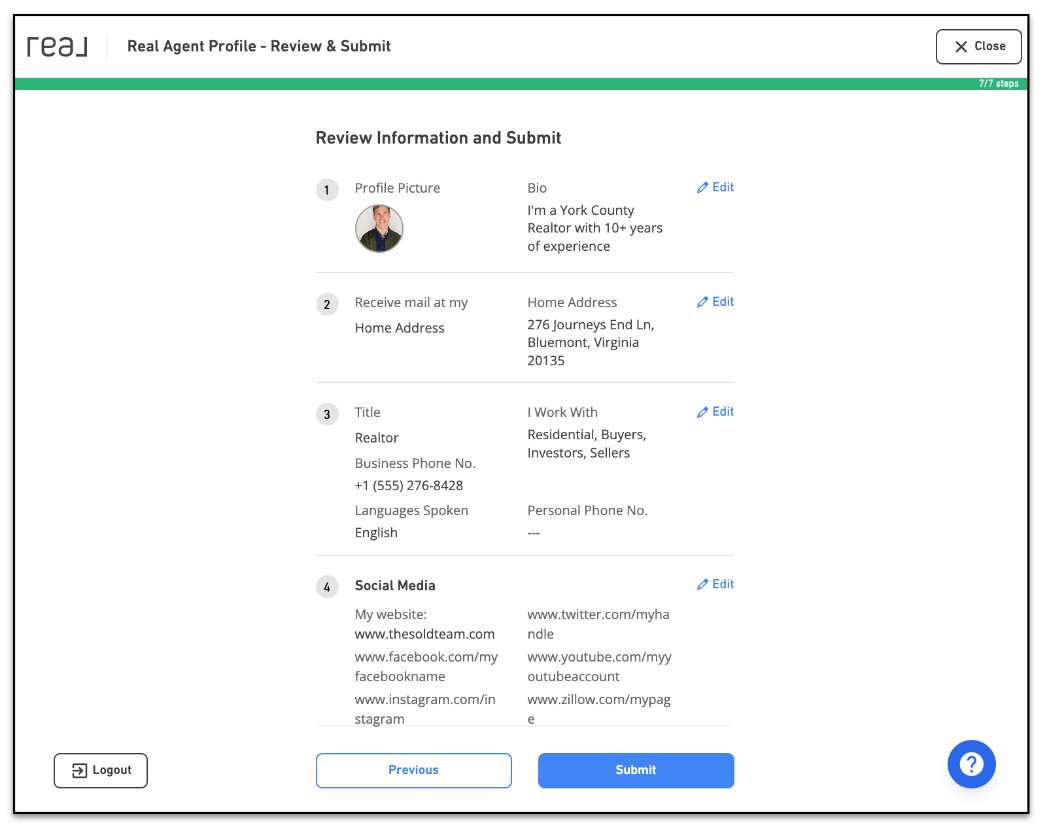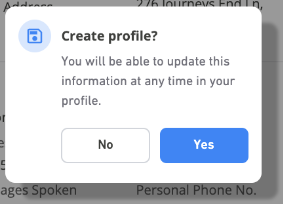 Step 9: Welcome to reZEN! You might notice an announcement after your profile is setup. Please watch the video to learn more about reZEN. Then click I Acknowledge to move to the next step.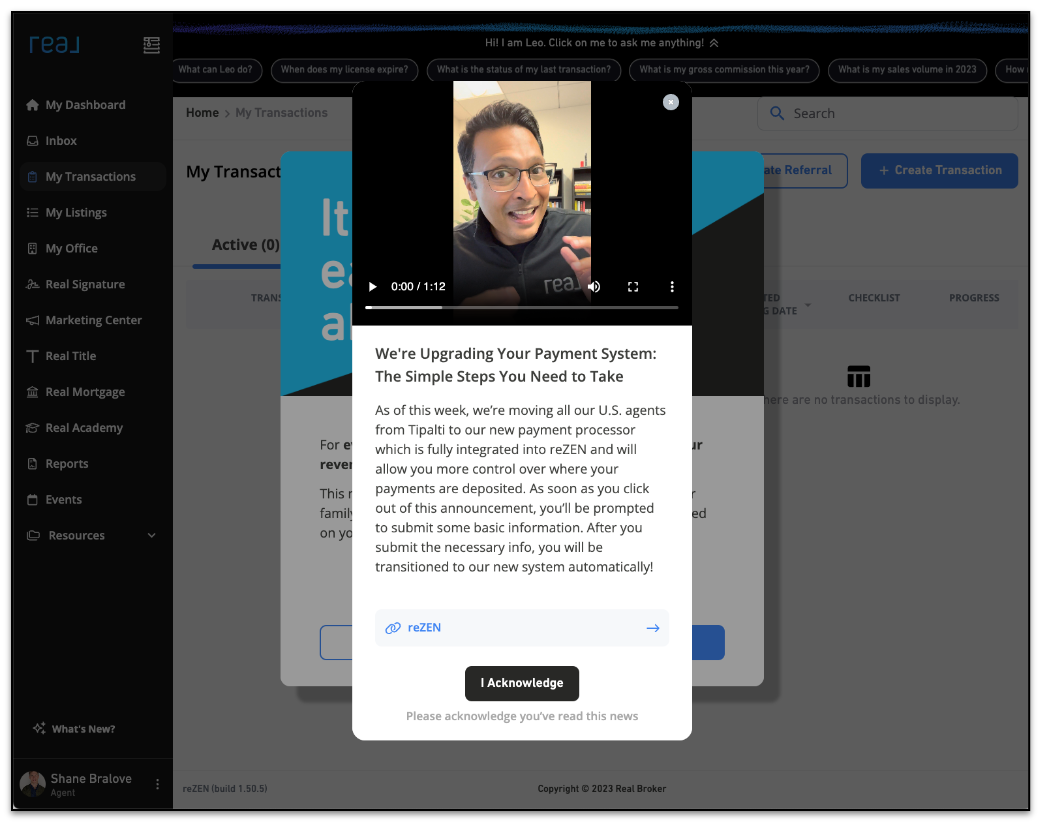 That's it! Your profile is setup - but before you can get paid, you'll need to finish your Tax & Payment Onboarding. Learn more here: How to complete tax and payment onboarding