It's time for Conveyance. Please make sure you have completed all required steps so our team can send all the necessary documents to the commission payer / lawyers to transfer ownership.
Before we can convey your file, you must complete the following steps:
When you are ready for Conveyance, you should see File was Reviewed and has been marked compliant and Trade Record Sheet Confirmed at the top of your transaction. For example: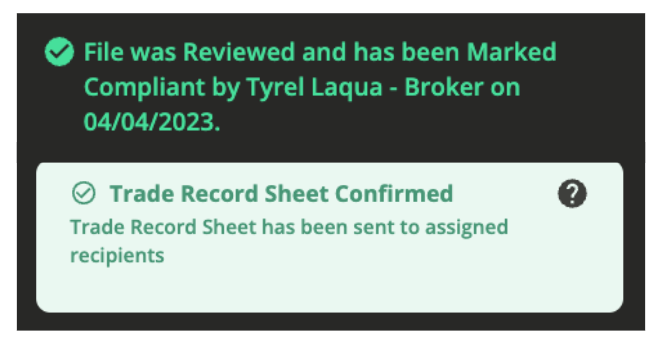 Typically, no further action is needed until Closing. You can proceed to Step 7: Close & Transfer Funds to Real - Canada.
If you or a lawyer needs to get in touch with our Conveyance Team, please use the email for your Province:
The Conveyance Team handles: Conveyance Instructions, Lawyer Letters, Commission Invoices, Release Letters, Confirmation of closing, Excess funds instructions, Excess Instructions, Disbursement Instructions.
If you do not see this status, please make sure you completed all the required steps:
Lastly: please make sure you have complete and accurate contact information for the Buyer, Seller, and both lawyers. If any information is missing or incomplete, scroll down to Other Participants and click the pencil icon to edit the information.


Where to find Conveyance Documents:
On your transaction, is a module called "Conveyance Documents" - it's located just under the Transaction Information section in reZEN.
Click View Docs to see your Conveyance Documents.