Some transactions have different fees, rebates, additional commissions, reimbursements, etc. These need to be added before you approve your commission calculation to make sure everyone is paid correctly.
Contents:
Fee Types
If you need to enter a referral or commission split to a co-agent, team member, or team lead, the process is a little different. So check out:
For all other types of fees, here is some guidance:
Fee Type
When to Use
What happens:
Payment Participant
To

pay

part of the gross commission income.

Team member / team lead
Pay a % fee to a mentor.
Referral

The gross commission will be split according to the % or $ amount you enter.
Rebate
You

pay

money to the buyer or seller at closing out of your commission. This will appear as a credit on the settlement statement.

You pay $1,000 from your gross commission for a contractor to fix the roof.

This will be deducted from your gross commission and the buyer will receive a credit (discount to purchase price) and/or the seller will receive a credit (additional funds due at closing).
Unlicensed Assistant (Called Transaction Coordinator in reZEN)

You pay an unlicensed assistant

Not Allowed in Ontario

Only allowed in Alberta under certain conditions, please check with your Broker if you have questions.




Always confirm you are paying transaction coordinators in accordance regulations.

This will be subtracted from the net commission income of the agent.




This means that first the split or post cap fee to Real will be deducted, and then the amount to the transaction coordinator will be paid out by Real.
How to enter fees in reZEN:
Login to reZEN
Go to My transactions > and click the transaction you need to edit.
Scroll down to the Additional Fees & Rebates section and click + Add Fees & Rebates.

This will open a popup. A couple notes:
Fee Type: Reference the guidance above - Fee Types, Rebates & Additional Commission
Participant: Select the person who will pay the fee or receive the rebate / commission
Amount: Amount of fee / rebate
Description: Explain the purpose of this entry. If it's an admin / transaction coordinator, please provide the name.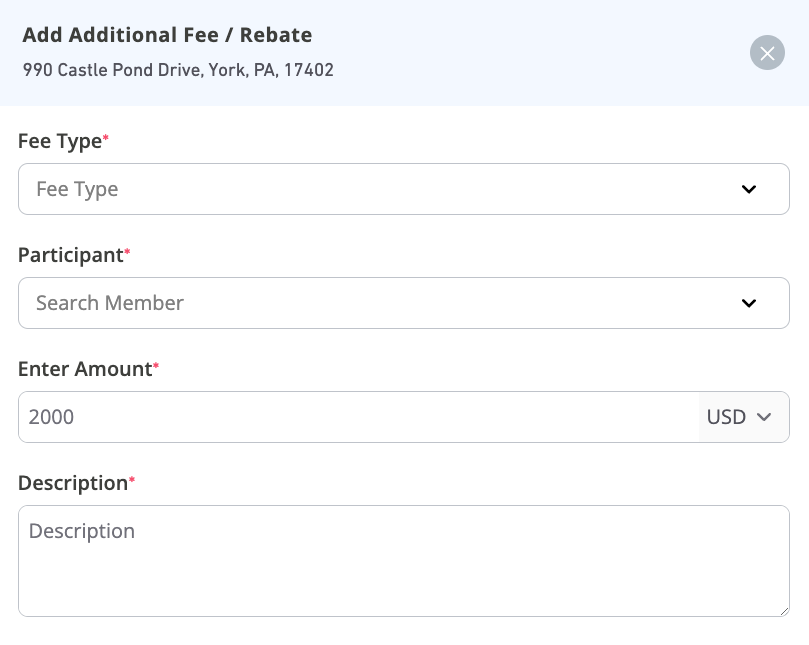 Click Save when you are done

Your fee or rebate will be listed in the Additional Fees & Rebates section:
Once you have completed inputting your Additional Fees & Rebates, you can again approve, generate and send your CDA.
If you need any help, reach out to support@therealbrokerage.com.