Need to pay someone associated with an upcoming transaction? Common examples include: referrals, team leads, team members, co-agents. Read this article to learn how to do it correctly.

Log in either to your app or to the desktop version. This demonstration uses the desktop version at bolt.therealbrokerage.com. You will log in using the same email and password you use on the app on your phone.
In your Dashboard, choose My Transactions: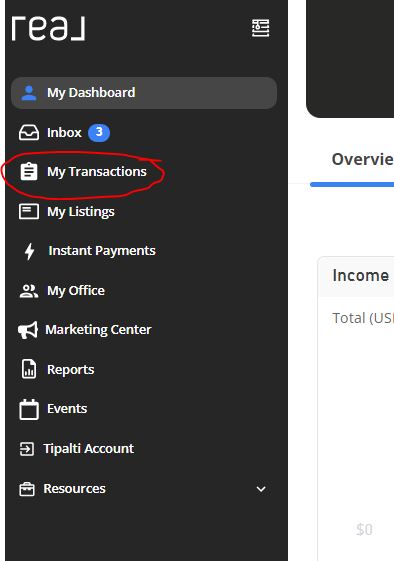 You will then see your list of transactions to choose from. Click on the eyeball to the left of the transaction you are adding a payment participant to.

As you can see, there is only one payment participant at this time. You will need to edit this section to include other participants.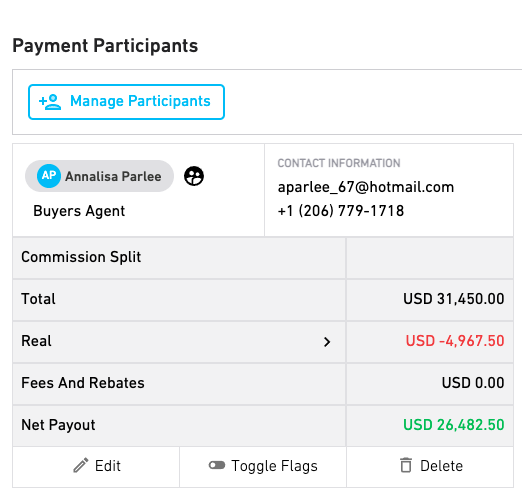 How to add payment participants:
What's a payment participant? It's someone who is participating in the transaction commission. The most common example is a team lead/member, co-agent, or referral.
It is the agent's responsibility to ensure only legally licensed individuals are to be paid.
How to add a participant:
Scroll down and click on manage participants.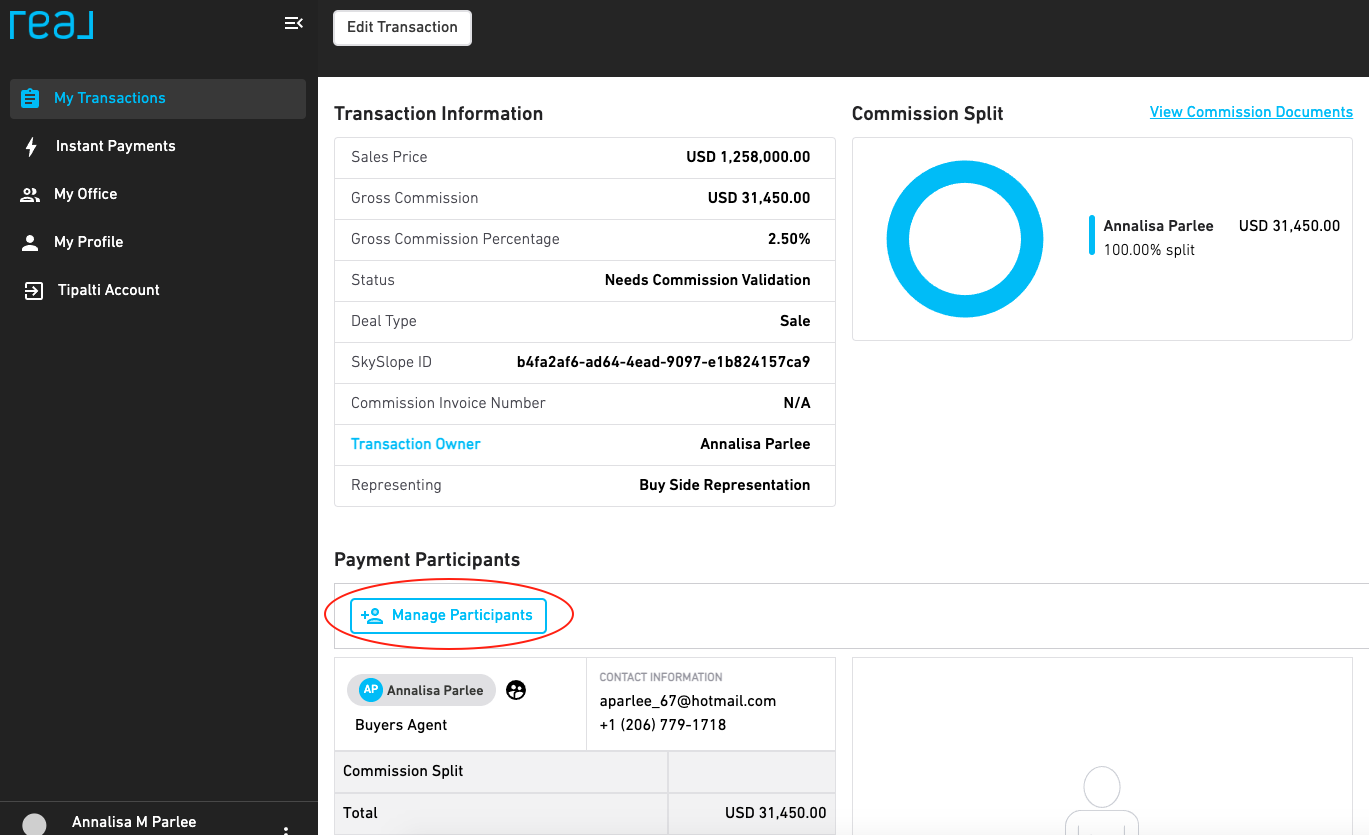 This will open up the add participant box. Click Add Participant.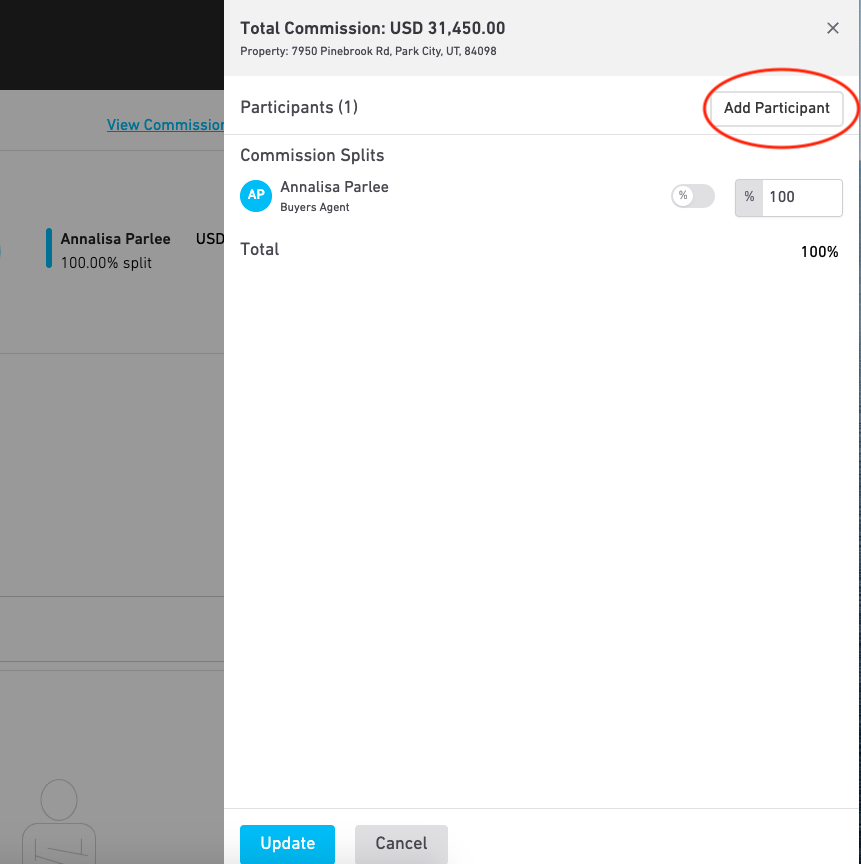 You will come into a form that needs to be filled out completely for the participant you are adding.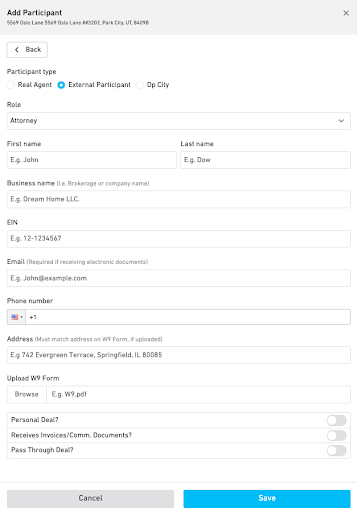 Choose the appropriate role for your participant. In this case, we will choose Referral.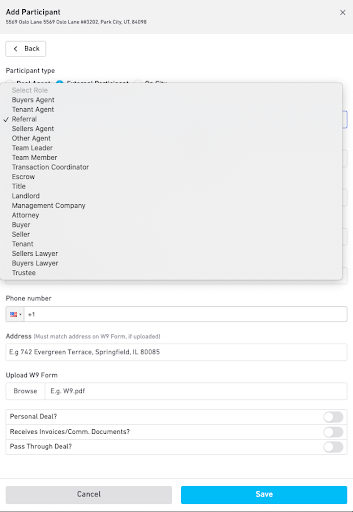 Complete the form with the agent's first name, last name, and the name of their business.
Since this is a referral, it is an external participant and any time you have an external participant, you MUST input their company's EIN number. The system will not allow you to save without this.
Next input their email address, their phone number, the address of the company, which must be the same address that is on their W9.
You should have obtained the W9 from the agent's company and that must be uploaded for you to be able to save the participant.
Once you have completed this form, click save.
A new window will open to show your commission splits. It defaults to you at 100% and the participant and 0%. The payment participant you added is still at zero. So what you want to do is go in and edit them so the commission is correctly split. You can do a percentage or use the toggle switch to change it to a flat rate split. The totals must always equal 100% of your total commission.
Once your splits are set, click Update.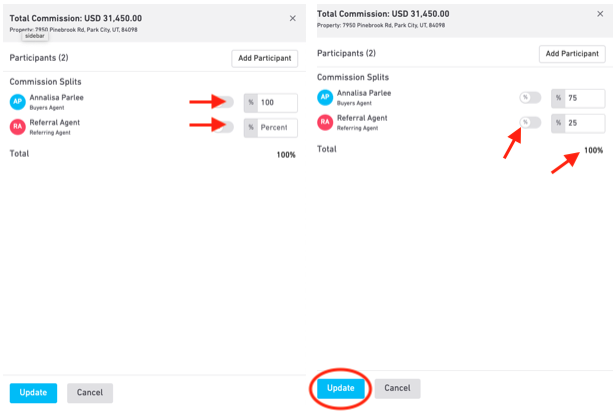 You now have two payment participants with the proper splits and you can complete and send your CDA.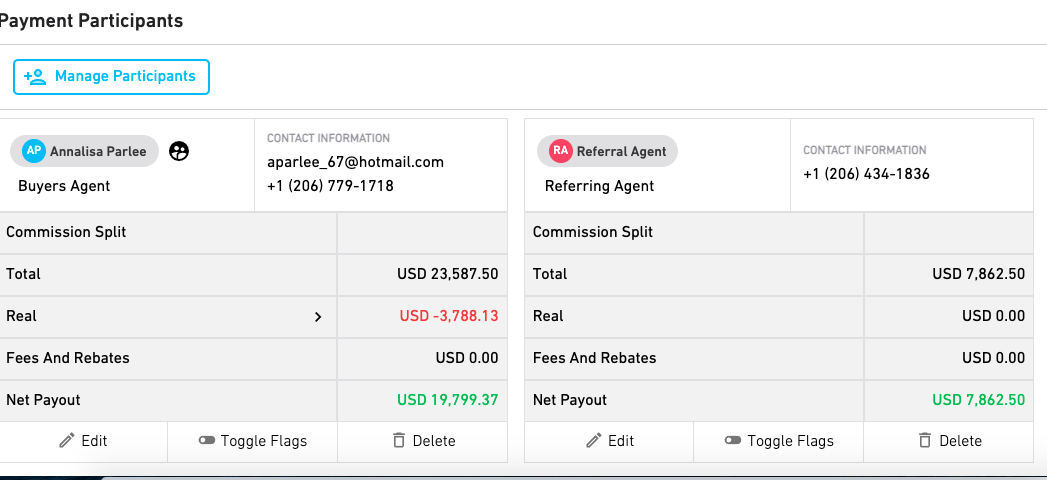 Already Sent Your Commission Document? Here's how to fix...
Note: If your CDA was already validated, generated, and/or sent, you will need to recalculate and re-send your Commission Document. Click here to learn how.
For example, if you need to change the sales price on the transaction, your commission amount, or add a fee that was not included when you originally generated the Commission Document.
Please make sure you see "Needs Commission Validation" in the upper right-hand corner before making a change to the transaction. This means you are ready to go ahead and make changes to that commission document.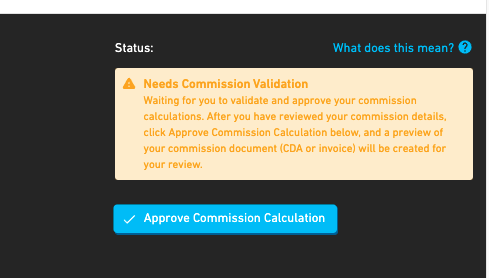 You may also reach out to the support team if you need assistance by emailing us at support@therealbrokerage.com.