After you sign the Independent Contractor Agreement:
Now that you have signed your ICA and paid the join fee, it's time to transfer your license to Real!
Existing Licensees
To transfer your existing license to Real, follow these steps:
Reach out to your current brokerage to have them mail your license to the New Mexico Real Estate Commission (NMREC).

Note that your current license must be returned to the Real Estate Commission before the License Transfer Application can be processed, unless the current license status is "inactive".
Next you will complete the New Mexico License Transfer Application that is sent to you by your Onboarding Specialist via Adobe Sign. When the form is complete and signed by you

and

your Designated Broker, Michael Glass, the completed form will be forwarded back to you via email.
You must then deliver the following to the NMREC.

Note it is encouraged for you to hand deliver your transfer package directly to the NMREC to avoid delays in processing.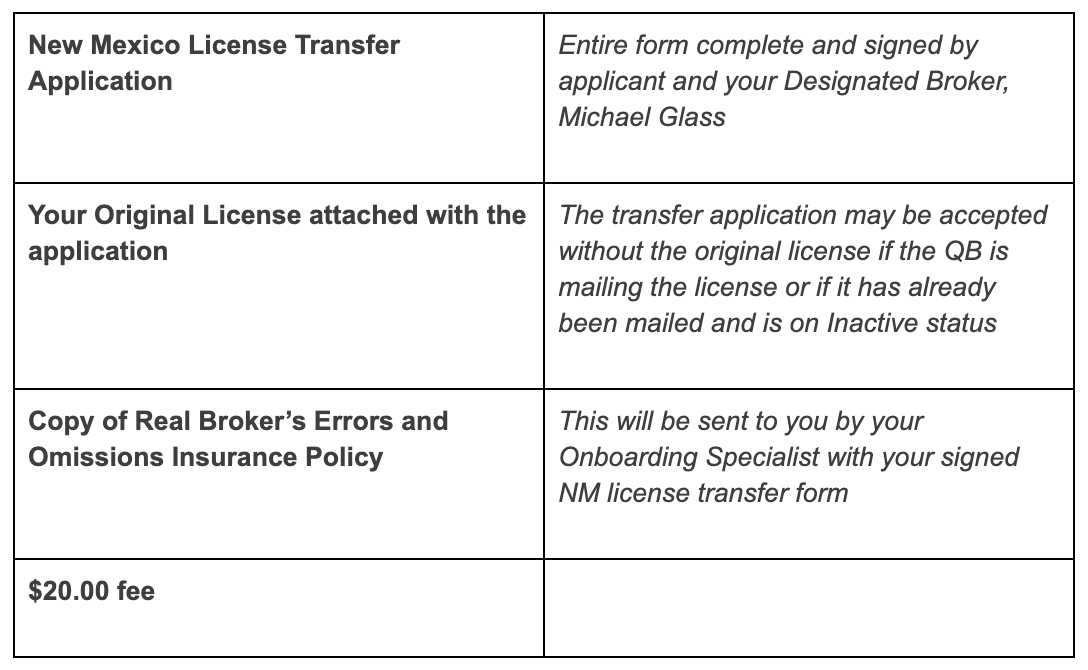 New Licensees
To apply for a new real estate license online, follow these steps:
After completing the above steps:
Your license status MUST show as ACTIVE under REAL Broker, LLC on the NMREC online portal in order to be converted to Active in our systems, as well as for you to affiliate with your MLS/Board. It is your responsibility to join your local board.
New to Real? Look out for your welcome email once your license transfer is complete. This will include your Post-Onboarding Instructions, details on our Onboarding class, link to our Marketing Center and more!
Already a Real agent? Please email support@therealbrokerage.com and our support team will add your license to your existing reZEN account.