After you sign the Independent Contractor Agreement:
Now that you have signed your ICA and paid the join fee, it's time to transfer your license to Real!
Existing Licensees
To transfer your existing license to Real, follow these steps:
Before we can affiliate you with Real, you need to contact your current broker and ask them to release your license.
Once you have been released from your previous brokerage, please email onboarding@therealbrokerage.com notifying your Onboarding Coordinator your license has been released. Please include in your reply a copy of your NY RE License number to ensure we have the correct number on file. Your Onboarding will coordinate with your new broker, Todd Stevens, to add your license to one of the following of our rosters:

Real Broker, LLC - if you are already a member or plan to join REBNY, OLR MLS, or Brooklyn MLS
Real Broker NY, LLC - all other boards and MLS in the state of NY
New Licensees
If you are a new agent and choosing Real as your brokerage, follow these steps: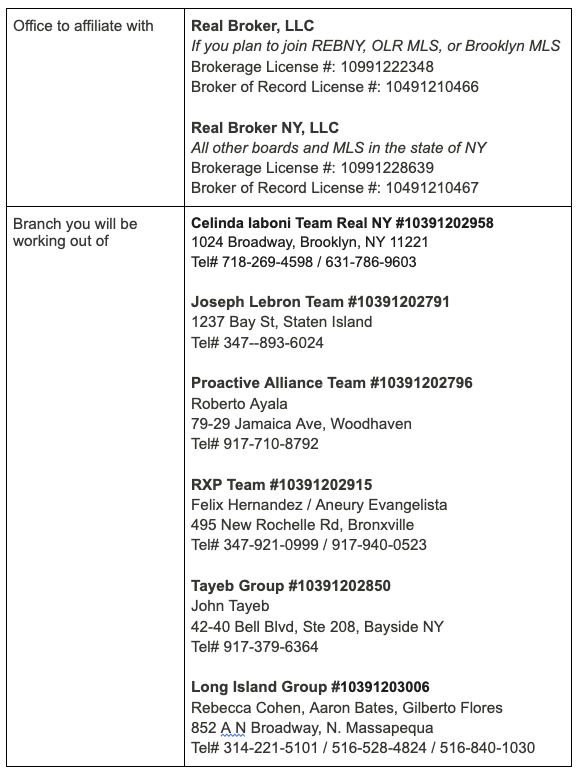 Your new broker, Celinda Iaboni, will authorize your application. Next the Department of State will review your application to make sure its complete and meets the qualifications for a real estate salesperson license. Upon successful review of your application by our office, your license will be mailed to your business address.
This process can take 2-3 weeks to be approved and show on eAccessNY. We cannot convert your joining app to active until you are officially showing on eAccessNY affiliated with Real.
After completing the above steps:
Your Designated Broker, Celinda Iaboni, and Onboarding Coordinator will confirm the transfer with the New York Department of State.
New to Real? Look out for your welcome email once your license transfer is complete. This will include your Post-Onboarding Instructions, details on our Onboarding class, link to our Marketing Center and more!
Already a Real agent? Please email support@therealbrokerage.com and our support team will add your license to your existing reZEN account.