Every Real Agent has a dedicated page on onereal.com. You can customize this page in reZEN to explain your value proposition to prospective buyers and sellers and share testimonials.
After your license is transferred to Real, you will be able to customize your client-facing landing page directly in reZEN. Read on for specific steps:
Before you get started:
How to setup your site:
Once your Payment & Tax Onboarding is complete, you will see the screen below to start your website setup. For more information about what this site does and how it will look see: What is the One Real agent landing page?
Step 1: Click Start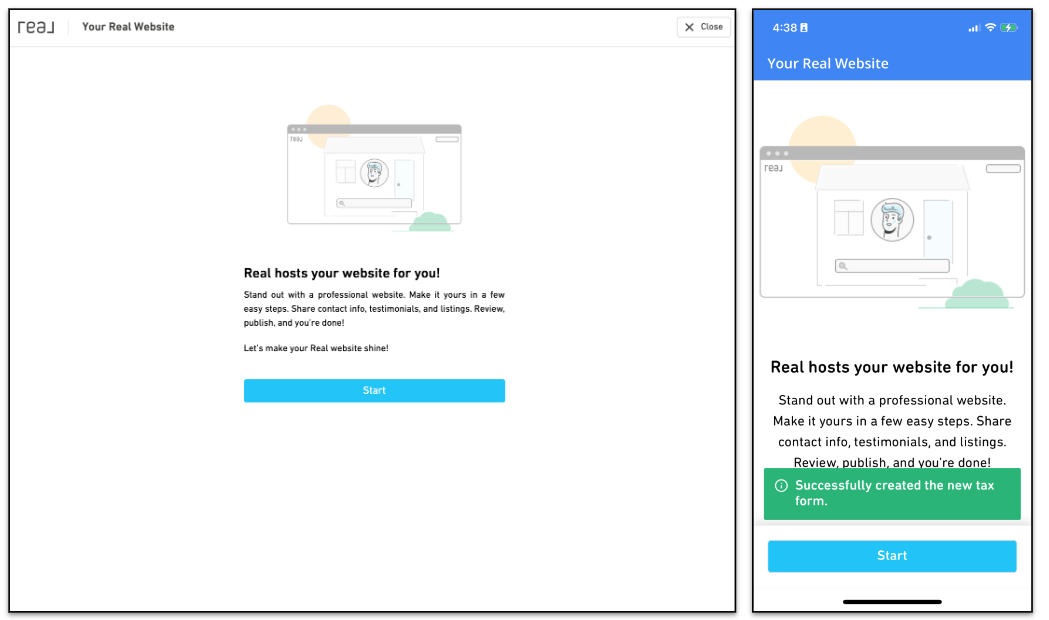 Step 2: Select an image and color theme for your site then click Next. You will need to select one of the images provided. We do not allow customization beyond these options.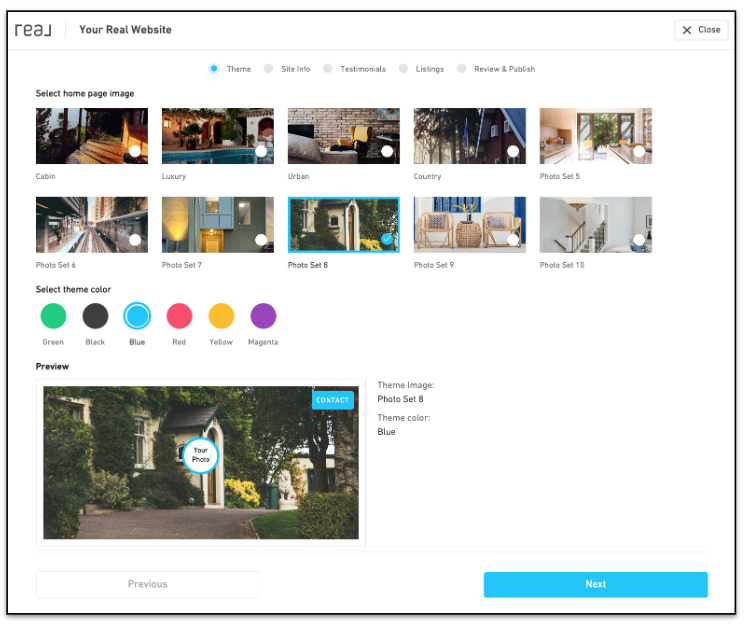 Step 3: Click on the arrows under each section to view and edit your Contact Info. You entered most of this information when setting up your profile, but can make any edits before publishing your site. Once you reviewed this information, click on Main Content.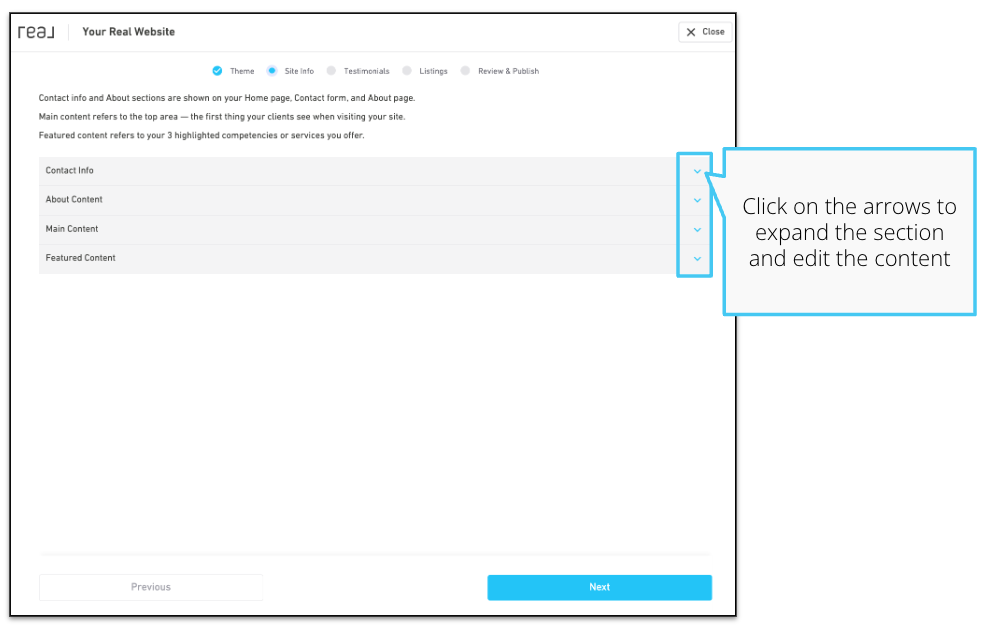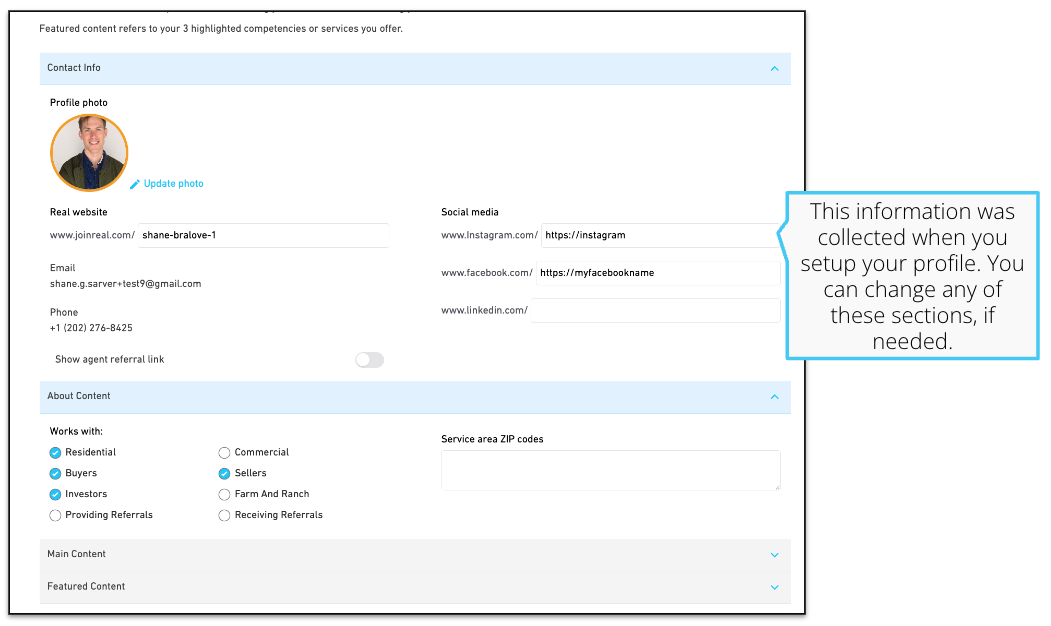 Step 4: Click the arrow to view and edit the Main Content section. Real provides standard copy for each section, but you can customize this for your personal brand. The image shows you where all the copy will go:
Your Name and Title/Certification appear in the top left corner of the site.
Your home page main title appears in the middle and is a catchy brand-focused phrase.
Your subtitle will appear in smaller lettering directly below and should have a clear call to action (CTA).
The message title and message content appears on the second section.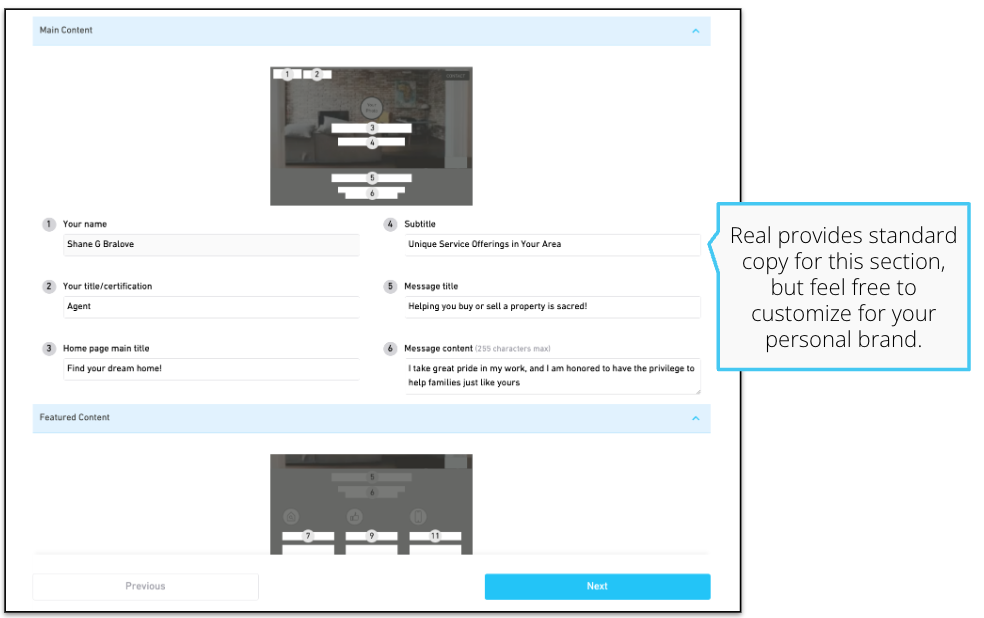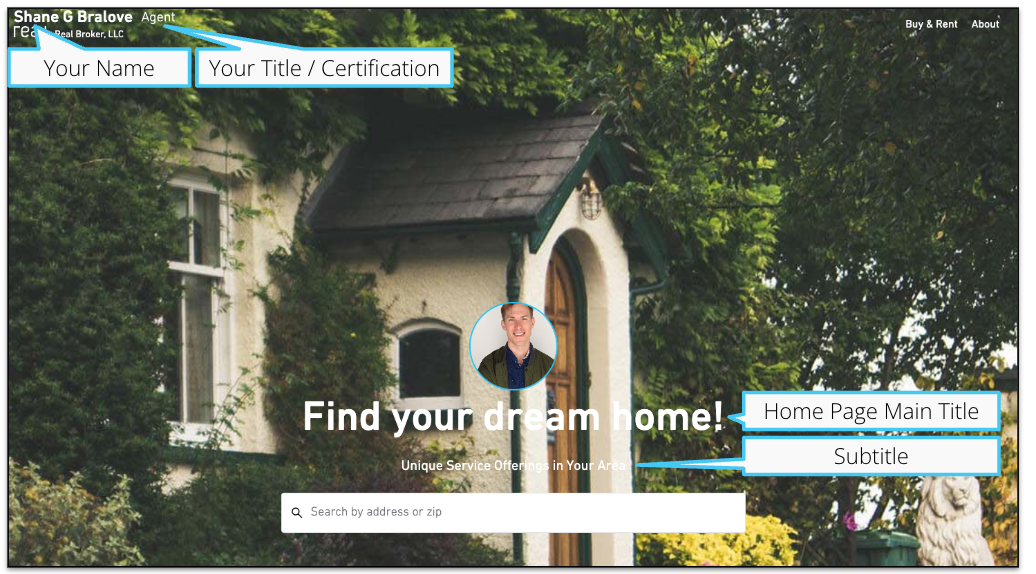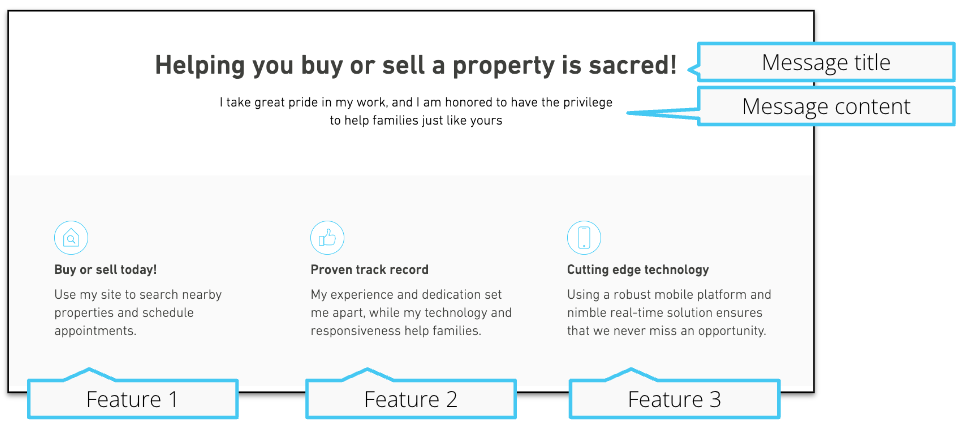 Step 5: Click the arrow to update Featured Content. This will appear on the second section of the landing page (see image above). This should focus on your core value propositions to a buyer or seller. Real provides standard copy, but you can customize with your personal brand information.
Once complete, review and click Next.
Step 6: On this page, you can add testimonials from past clients. Click Add a Testimonial, then copy/paste the client's name and testimonial. Click Add a testimonial to add more. Once all testimonials are entered, click Next.
YOU MUST have explicit permission from your client to use their information publicly.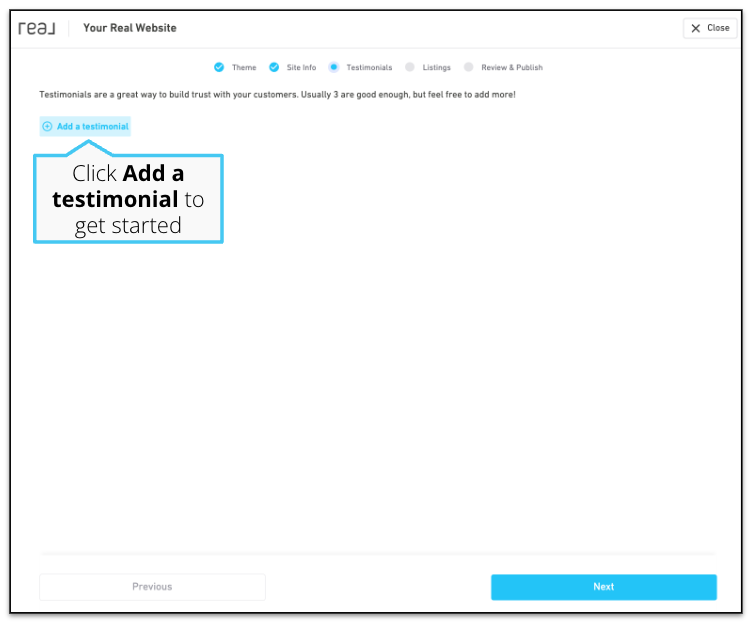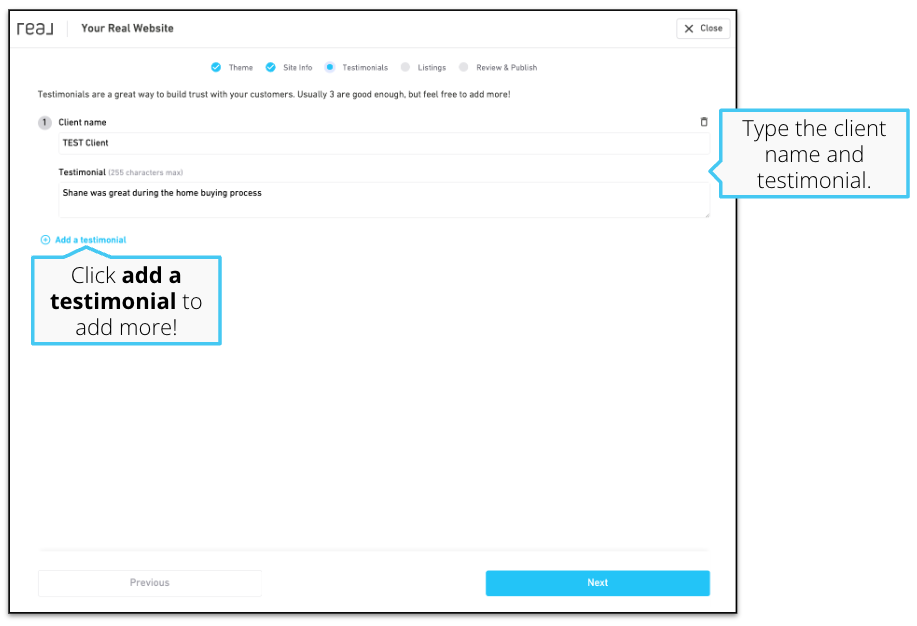 Step 7: If you focus on certain property type(s) in your market, update your settings here. Your landing page will show properties in your market (based on MLS feed) to get customers interested - and this will filter those results. Then click Next.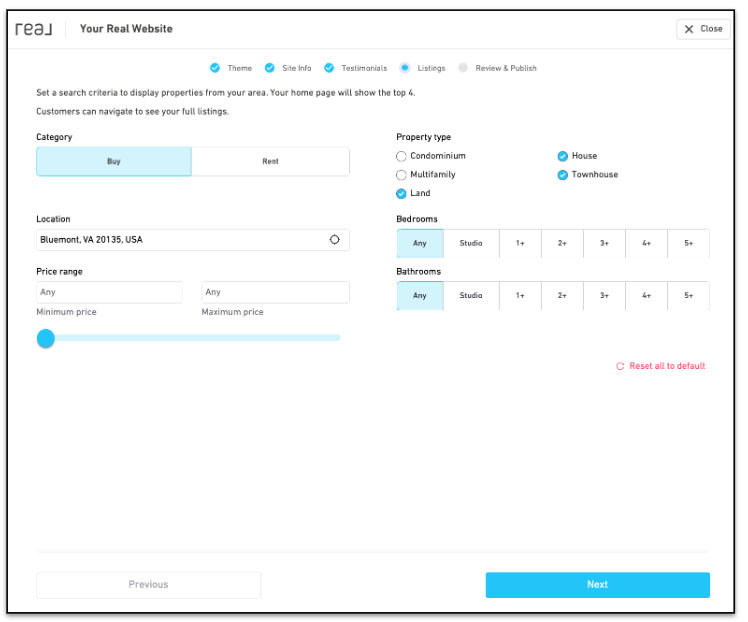 Step 8: Review all the information one final time. Then, click Publish. You will be asked to confirm, click Publish again.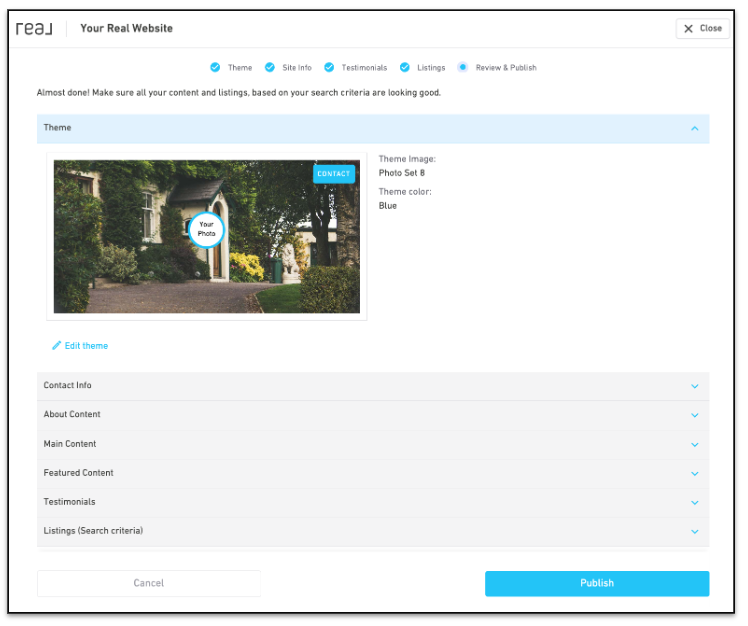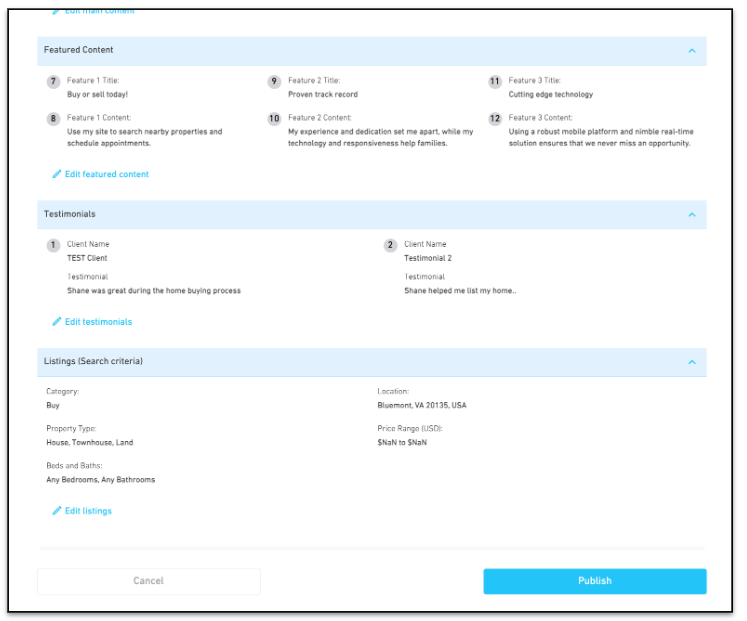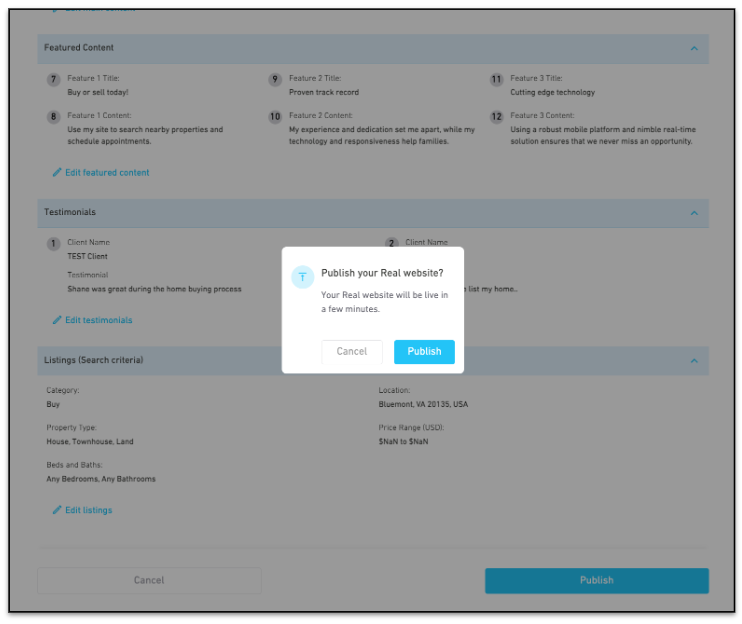 That's it! You're done. You should now see your Onboarding Checklist and get started with your Onboarding Items. Learn more: How do I access my Onboarding Checklist?