Grace Period:
When you join Real, you can earn revenue share for the first six months - without meeting the producing agent requirement or Tier unlock requirement. This is granted only once (when you first join), it does not repeat after the anniversary date.
What this means:
As a Sponsor:
You can attract new agents to Real and start earning Revenue Share right away!
You have six months to build your production business before the Producing Agent Policy applies.
During your six month grace period, all the agents you attract to Real will count toward Tier Unlock Status - which means as soon as you attract 10 active agents to Real, your Tier 2 will unlock.
6 months after your Join Date, these exciting benefits will end. You will need to generate enough Revenue to comply with the Producing Agent Policy to continue to receive Revenue - and your downline agents will need to produce in order to count toward Tier Unlock.
Grace Period for your Sponsees:
Your sponsees also benefit from the grace period - in the same way you do. However:
A Sponsee in a grace period

does not

count toward the Sponsor's Tier Unlock.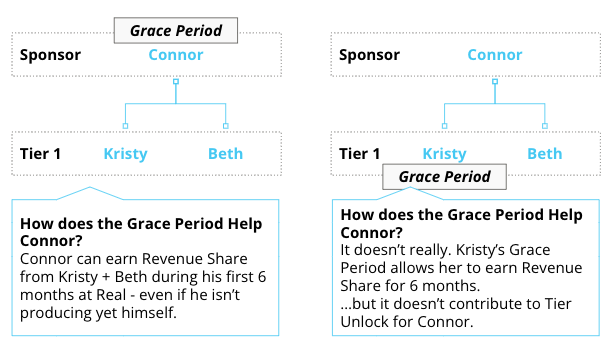 For Example:
Connor started 10 months ago. He

is not

in his Grace Period.
Connor attracts 10 agents to Real.
9 of these agents are producing.
One agent (Kristy) is in her grace period.
Does Connor Unlock Tier 2 with 9 Producing Agents and one agent in her grace period?
No. The Grace Period does not count toward Tier Unlock. Kristy must close enough qualifying transactions to count toward producing - or Connor must attract another agent.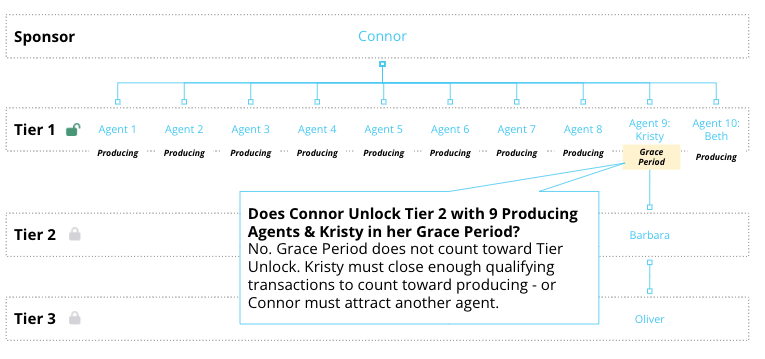 ...but
If Connor is in his grace period, then his Tier 1 agents will count toward Tier unlock. If Connor is still in his grace period, he will unlock Tier 2, irrespective of Kristy's Producing Status.