You can see your net payout in the Payment Participants section of your transaction. On the transaction, scroll down to the module that says "Payment Participants." Then, click the arrow next to Real to see a breakdown of Real's fees.
Our Transactions Team reviews every file after closing and will compare the money received to the final amount owed. If anything changes after closing, they will adjust your Payout and/or issue a refund to make sure you are paid the correct amount.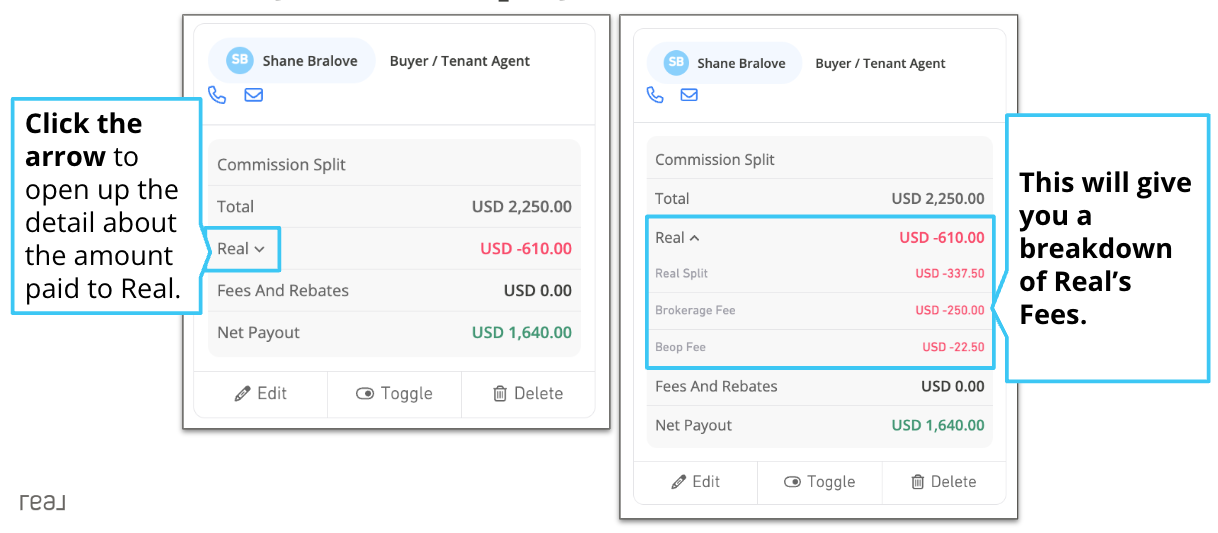 This information is also included on your Commission Disbursement Agreement, which is sent to Title / Escrow / Lawyer / Closing before closing.
This is based on the information you entered into reZEN, which was reviewed and approved by your Broker.
If you believe this information is incorrect, you can edit this directly in your transaction: How do I edit a Transaction?
Please note: in some cases, your net payout will need to be adjusted after closing. Our Transactions team reviews every file and balances it after closing. Common examples include -

if you had the brokerage fee listed, but paid it; or
You have a 15% paid to real listed, but you recently capped.

If you are paid at the table / closing ("split check"), Real will recalculate your commission after closing and issue a refund for any additional amounts owed to you.
If you are paid by Real after closing, we will recalculate your commission at closing and refund any amounts owed.