Twenty days prior to the vesting of an award, you will receive a popup message in Shareworks letting you know that shares are vesting and it is time to release them to the platform where they can be sold or traded.
Because Agents are not employees, Real cannot withhold taxes on vested shares, so your only release method is 'No taxes or fees withheld, receive all shares.' In this case, The Real Brokerage is not withholding any taxes upon the release.
We highly recommend you consult a tax advisor to determine your estimated tax liability and plan accordingly.
Once your shares are released, you can choose to hold your shares within your Shareworks account, transfer to your personal brokerage account, or sell your shares.
How to Release Stock:
Step 1: When prompted, make sure the button is clicked and that you click on continue to acknowledge the release method of those shares. If you click on cancel the election or don't take any action, you will be defaulted to 'No taxes or fees withheld, receive all shares' once the election window is closed, and your shares will be released.
That's it! You are done. You will see a confirmation message. You can click close.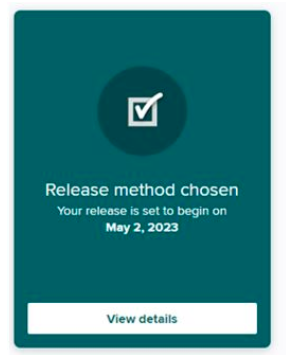 After the release event is completed, you can choose to hold your shares or transact by going to the Portfolio tab > Share Purchase and Holdings > Sell or Transfer. If you elect to hold, then the available portfolio value will reflect the value of the released shares you own. This value will fluctuate based on the current stock price.
​
If you have other questions about Shareworks, please see: