Watch our Creating Document Templates & Packets Training in Real Academy, or keep reading for step-by-step instructions.
Step 1: Access Real Signature by logging into reZEN and clicking Real Signature on the left side.
Step 2: Click Document Templates at the top.
Step 3: Upload one or more documents. You can upload documents by browsing for files on your computer / phone or dragging and dropping files onto the top section. The uploaded documents will be listed on the Document Templates page in Draft Status.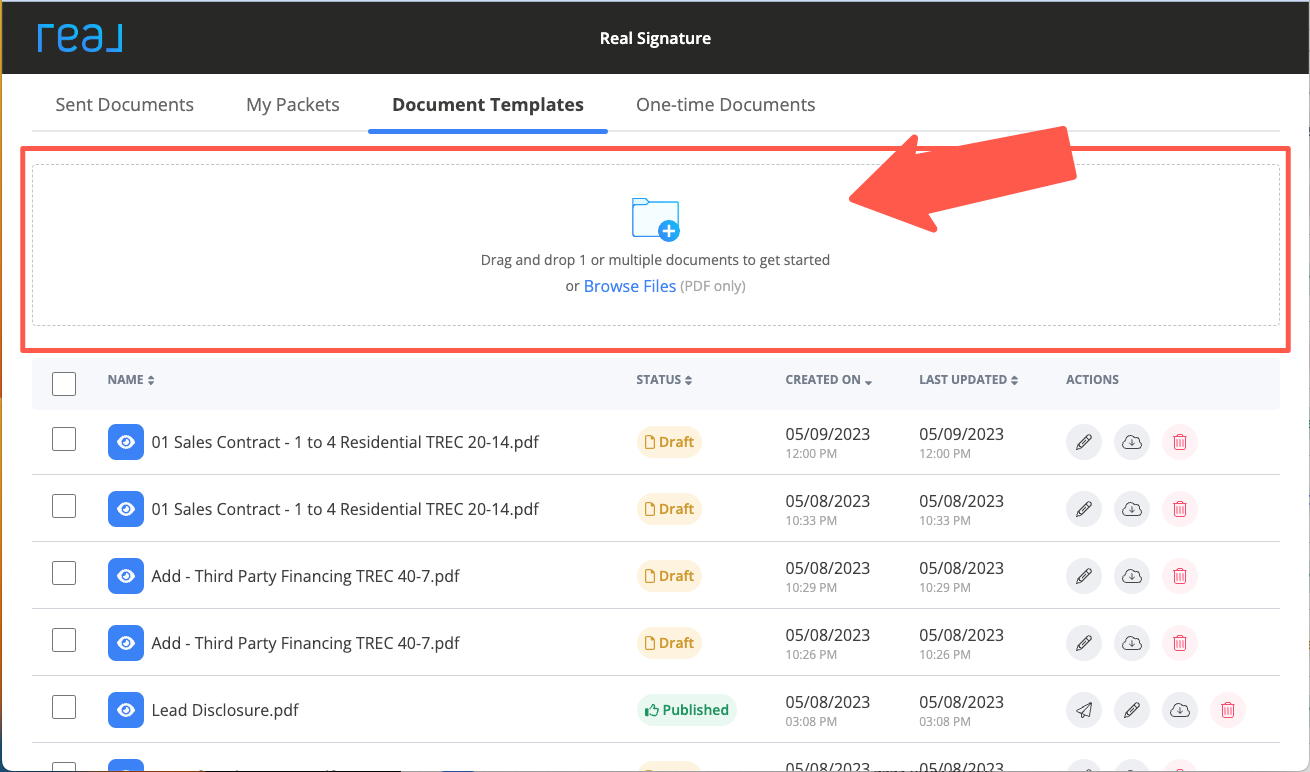 Step 4: Click the pencil icon next to the document you want to edit.
Step 5: Rename the document and add any signee roles you need. By default, we have two buyers and two sellers. You can easily add and remove signee roles as needed.
If this document will only be signed by Buyers, remove the Sellers by clicking the x next to Seller 1 and Seller 2.
If this document typically requires a Lawyer, Agent, or other type of Signer, click Add Different Signees and select the type of Signer for the document.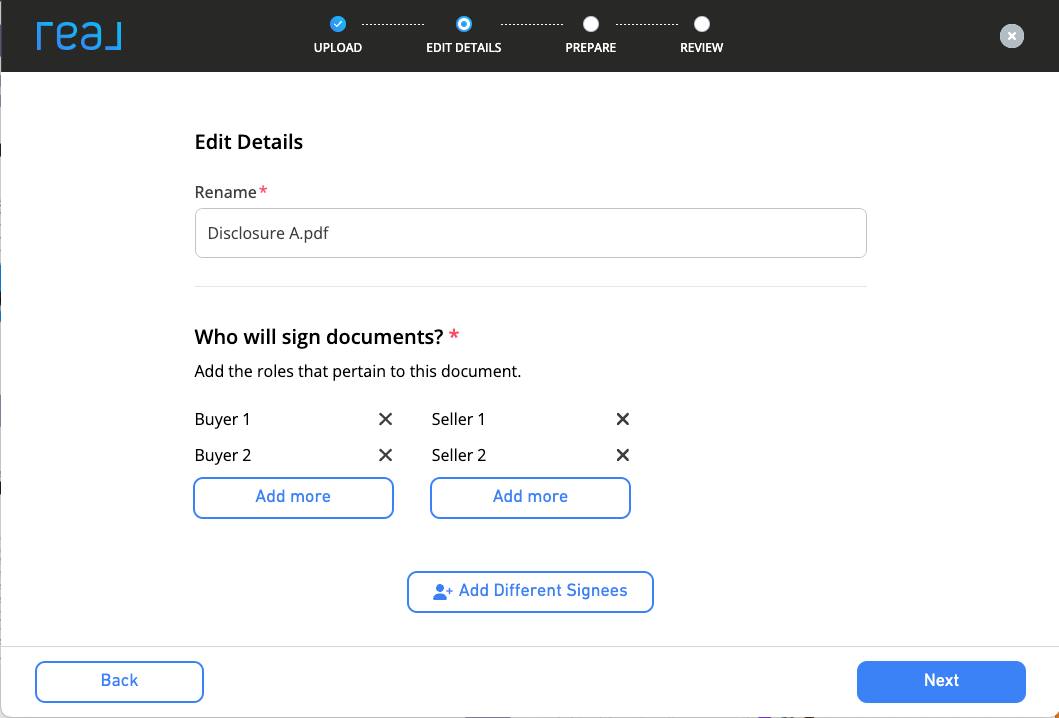 Step 6: Create your template by dragging and dropping fields onto the document you uploaded. Read below for tips.
Click the dropdown to change the person who will sign / fill the field.

For example, if you have two Buyers, click Buyer 1 and drag a Signature field onto the form where the Signature needs to go. Then, select Buyer 2 and drag a Signature field onto the document where the second Signature needs to go.

If there are items you need to fill out before sending the document (e.g. address, sale price), select Sender from the dropdown, then drag/drop the field. You will be prompted to fill these items out before the document is sent for signature.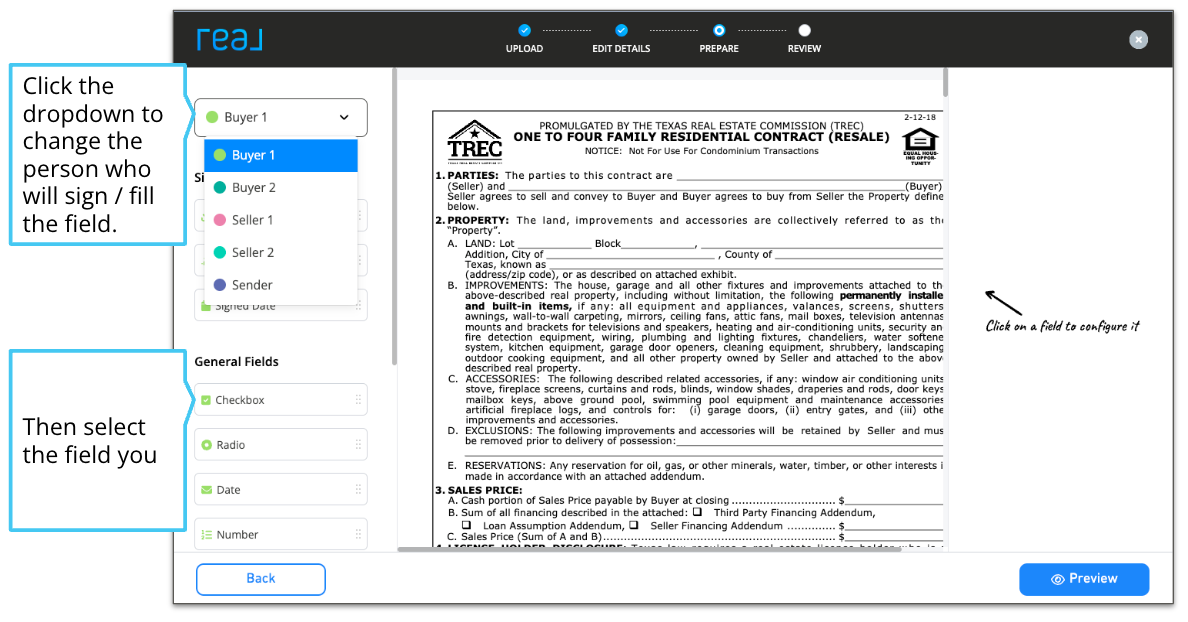 PRO TIP: save time by using fields that are pre-filled based on information in your (agent) profile, or transaction.

Brokerage fields are pre-filled with Real's information. Choose from: Brokerage License ID, Brokerage Address, Broker Name, Broker Phone, Broker Email
Agent fields are pre-filled with information from your reZEN profile: Agent Name, Business Phone, Business Email, Agent License #
Transaction fields are pre-filled with information from the transaction: Full Address and individual address elements, MLS #, Escrow # (US-only), Year Built (US-only), Est. Closing Date, Email (ex: 123britishcolumbia6-r@rezenfilecabinet.com)

Note: if there is no transaction associated with a templated document, the transaction fields become optional text fields that you as the Sender can fill out before you send for signature.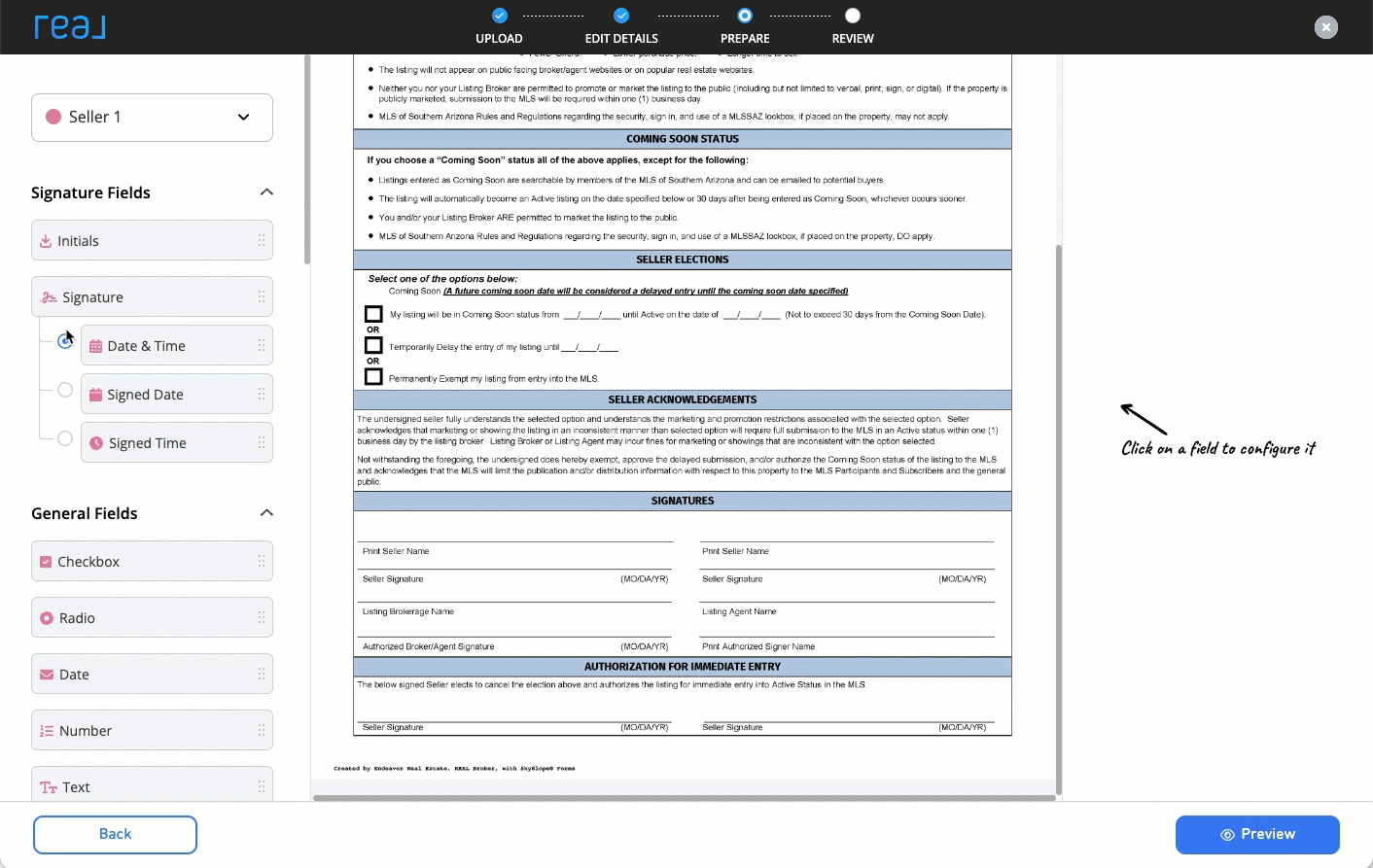 Roles are color-coded on the top left panel so you can easily keep track of who is signing / filling each field.
If a field must be signed / filled out to execute the document, click the field and mark it required on the right side.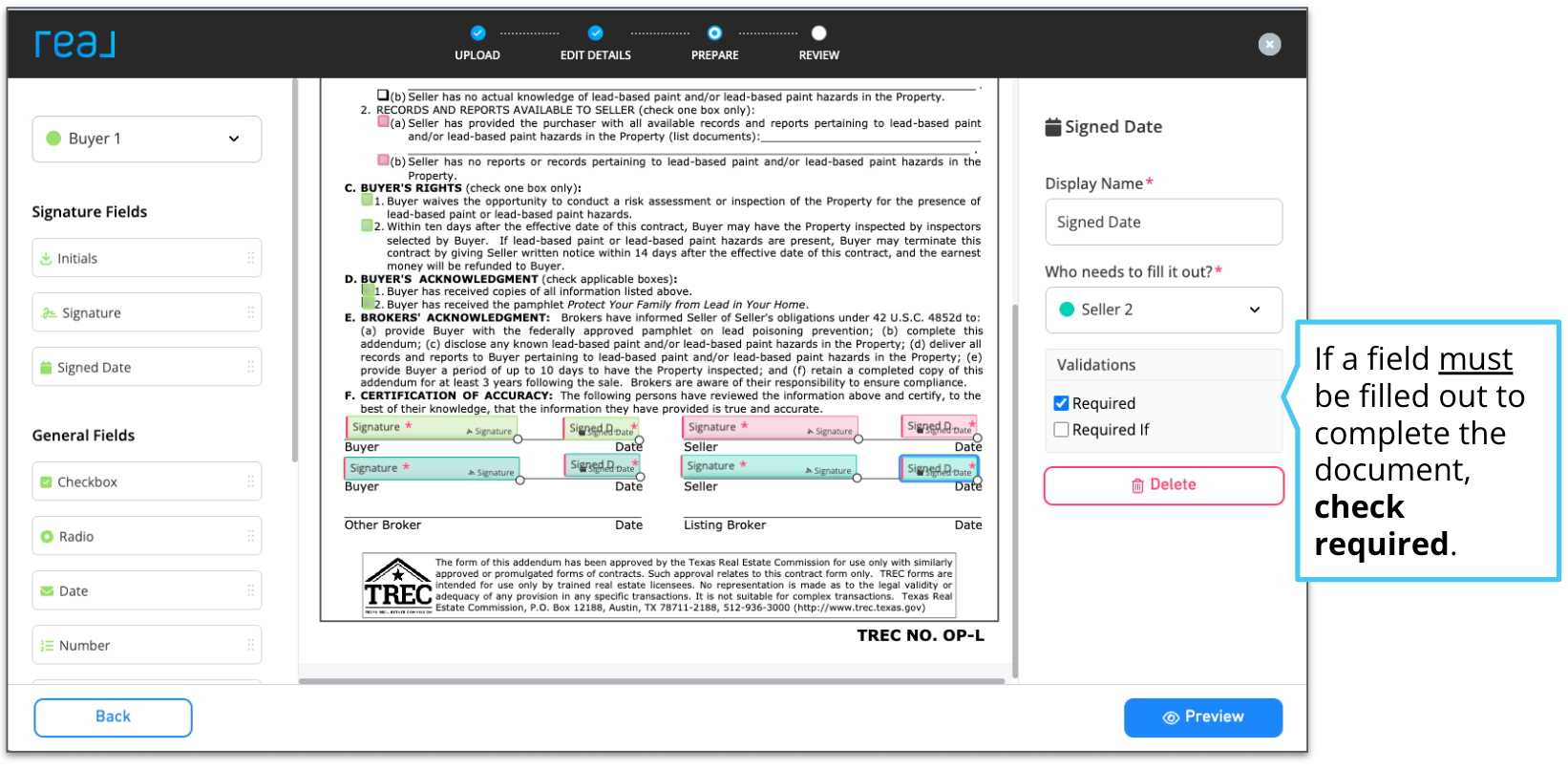 If you need to edit many fields, simply drag your cursor over the fields to reassign or delete.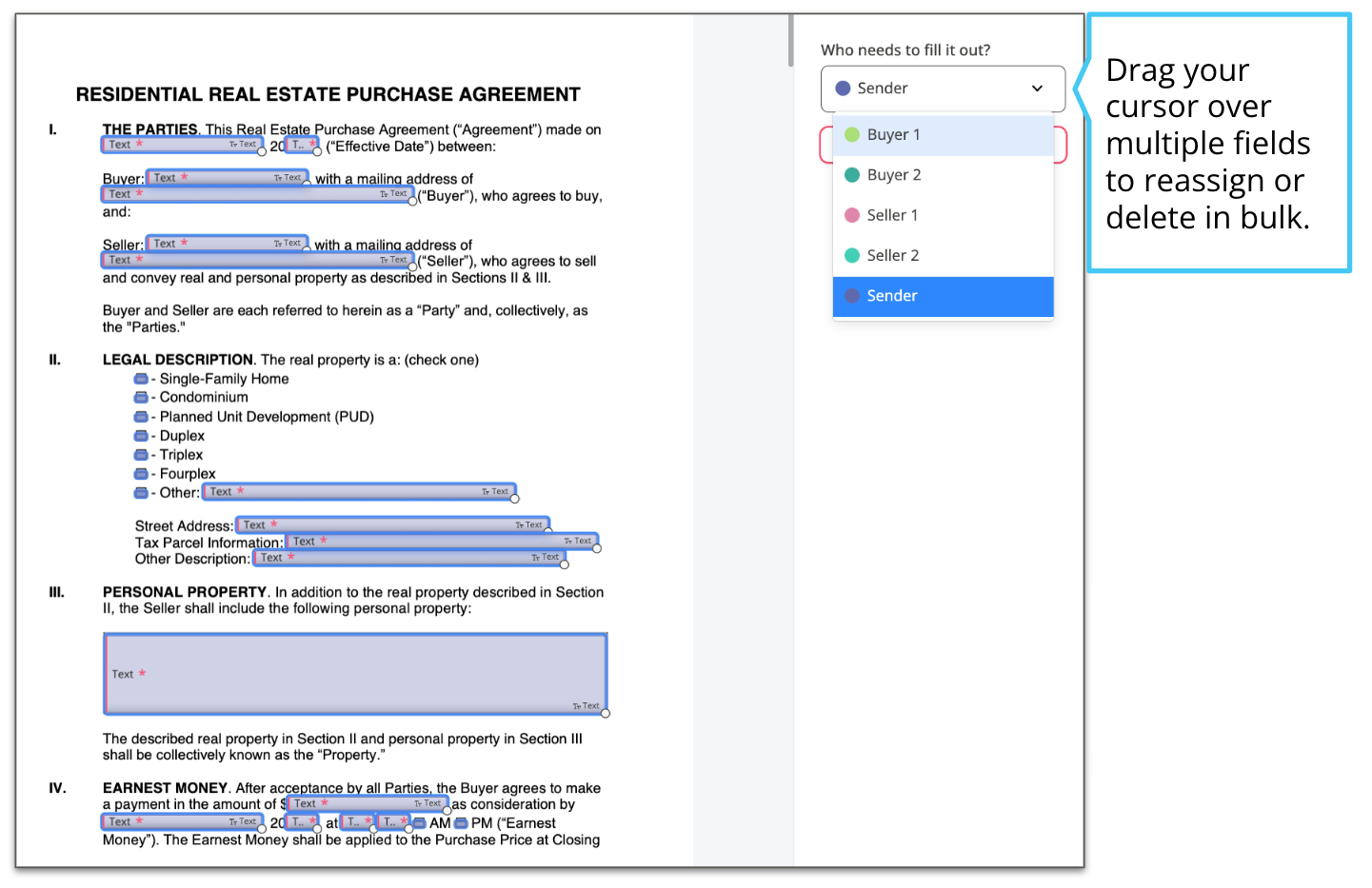 You have three options for the signature date:

Date & Time: This will display the date and time the document was signed. Example: 10/15/2023 5:55AM PDT
Signed Date: Date-only field. Example: 10/15/2023
Signed Time: Time-only field. Example: 05:55 AM PDT
Step 7: Once all the fields have been added, review the document.
Make sure the field color corresponds to the correct role (e.g. Buyer 1 is green and the signature block for Buyer 1 is green and above the first signature line for the Buyer).
Make sure all required fields are marked required. To edit this, click on the field and check the required field on the right side.
Step 8: Click Publish to finish the template. The template will be accessible in the Document Templates tab of Real Signature - or click Publish & Send to save the template and send it to someone.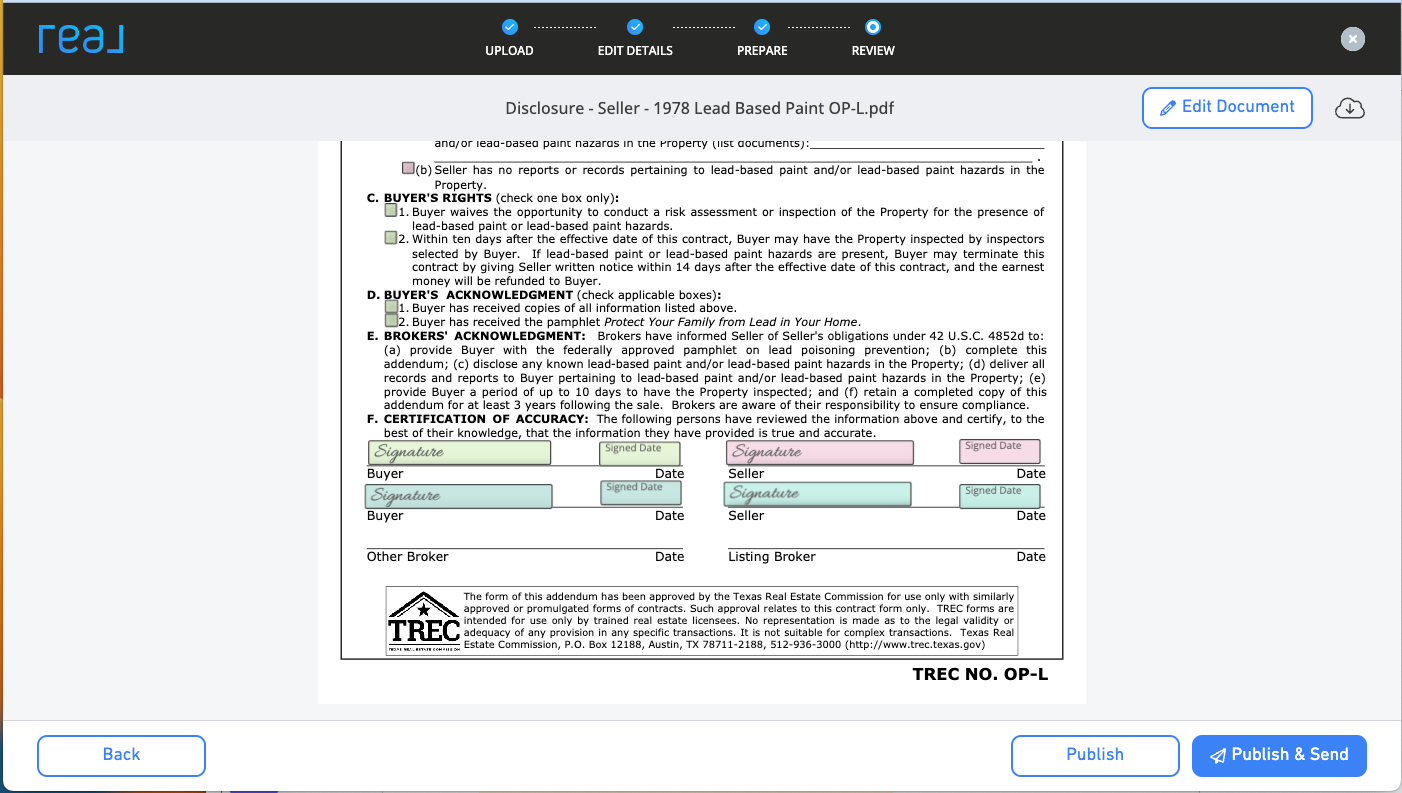 That's it! You created a template. Moving forward, you can quickly edit this template and send it for signature.
Learn more: