After you sign the Independent Contractor Agreement:
Now that you have signed your ICA and paid the join fee, it's time to transfer your license to Real!
Existing Licensees
To transfer your existing license to Real, you will submit the transfer request online. You are required to submit the Statement of Employing and Releasing Broker of Record forms with the transfer request. Your Onboarding Coordinator will send you the Real Estate Transfer - Statement of Employing Broker of Record form; fill out any missing information prior to uploading with your transfer request. You are responsible for working with your current Broker to get the Real Estate Transfer - Statement of Current Broker of Record form completed to include with the request.
Once you have these two forms completed and signed, login to your Delaware Professional Regulation Online Services (DELPROS) account to kick off the transfer request. If you do not have an account yet with DELPROS, follow the New Users steps to create a new account and then login.
1) Click on the

Service Request

tab in the Navigation bar, and then 2) Click the

APPLY FOR A NEW SERVICE REQUEST

button.

3) Select

Yes

from the drop-down and 4) click

PROCEED

.

5) Select the appropriate values from the drop-down for the

Board

,

Type

and

Service Request Type

(Service Request Type should be Real Estate License Transfer) and 6) Click the

PROCEED

button.

Note the screenshot example below is from DELPROS which is why it says Dietitians/Nutritionists - you should select the appropriate Real Estate Board and Type.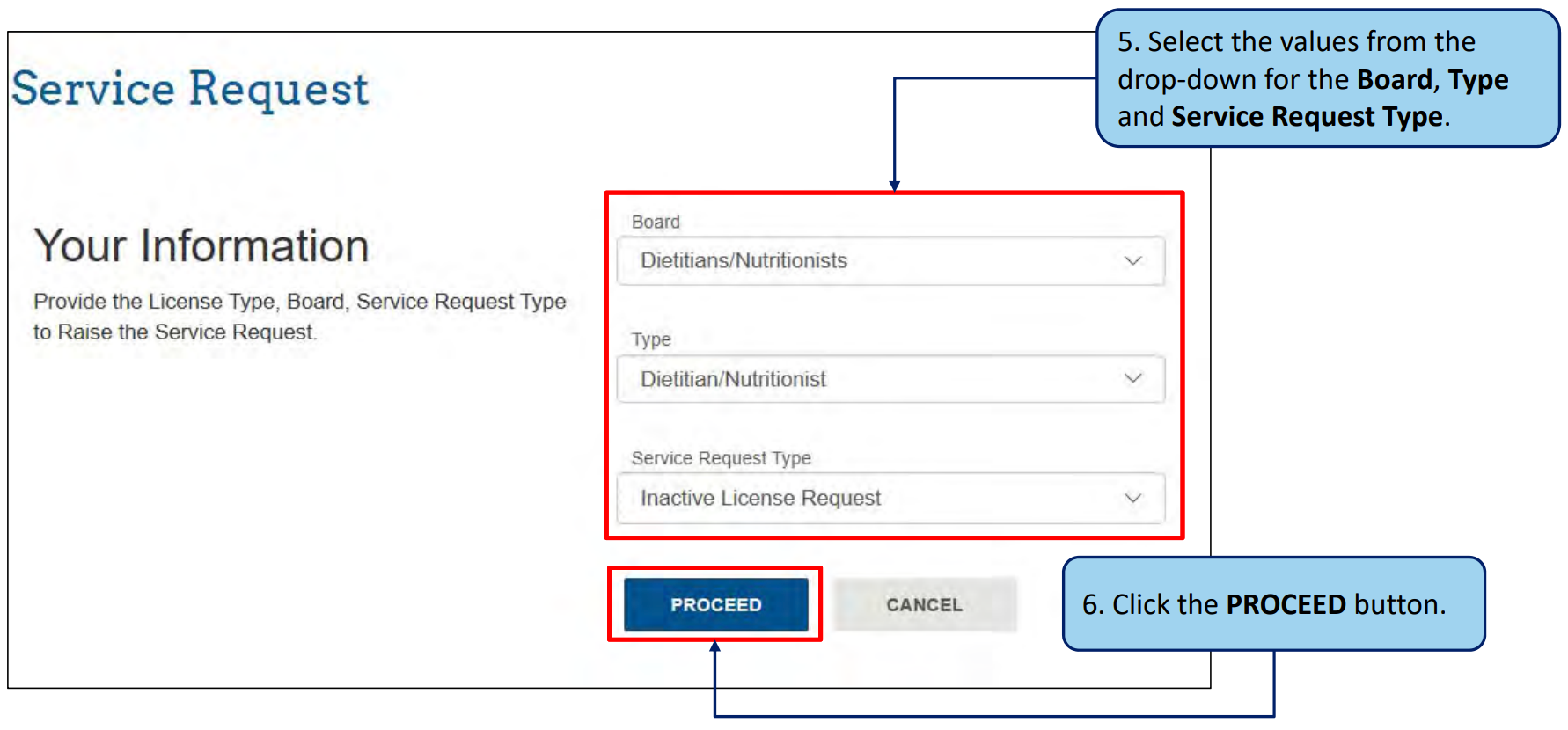 7) Select the license or application for the request and 8) Click the

SAVE AND CONTINUE

button.

Note the screenshot example below is from DELPROS which is why it says Dietitians/Nutritionists - yours should reflect Real Estate.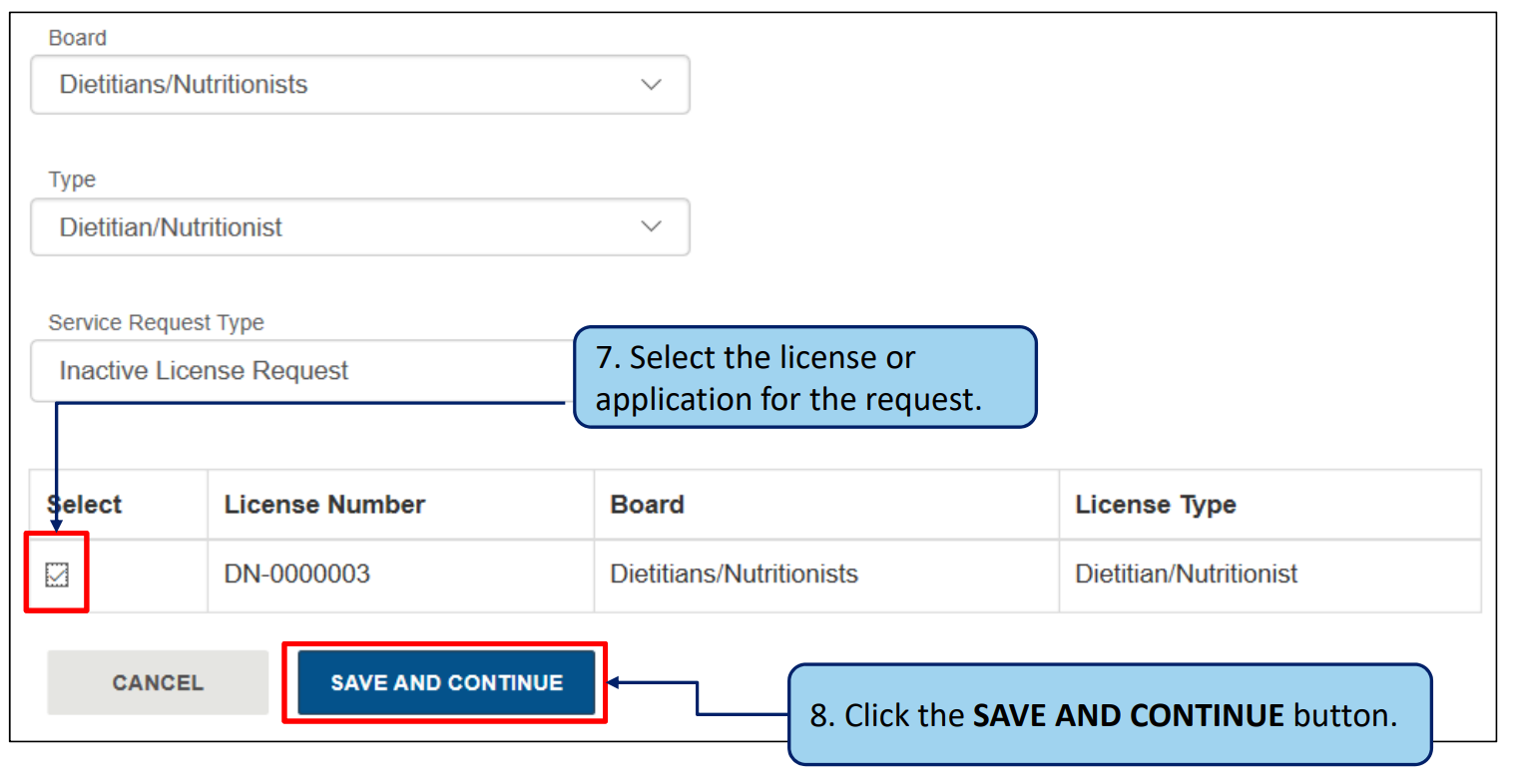 9) Click the

SAVE AND PAY

button.

10) Click on the box to select the row and 11) Click the

CONTINUE

button.

12) Click the Proceed to Payment Gateway button and complete the payment screens.
13) Click the

Return to Home

link.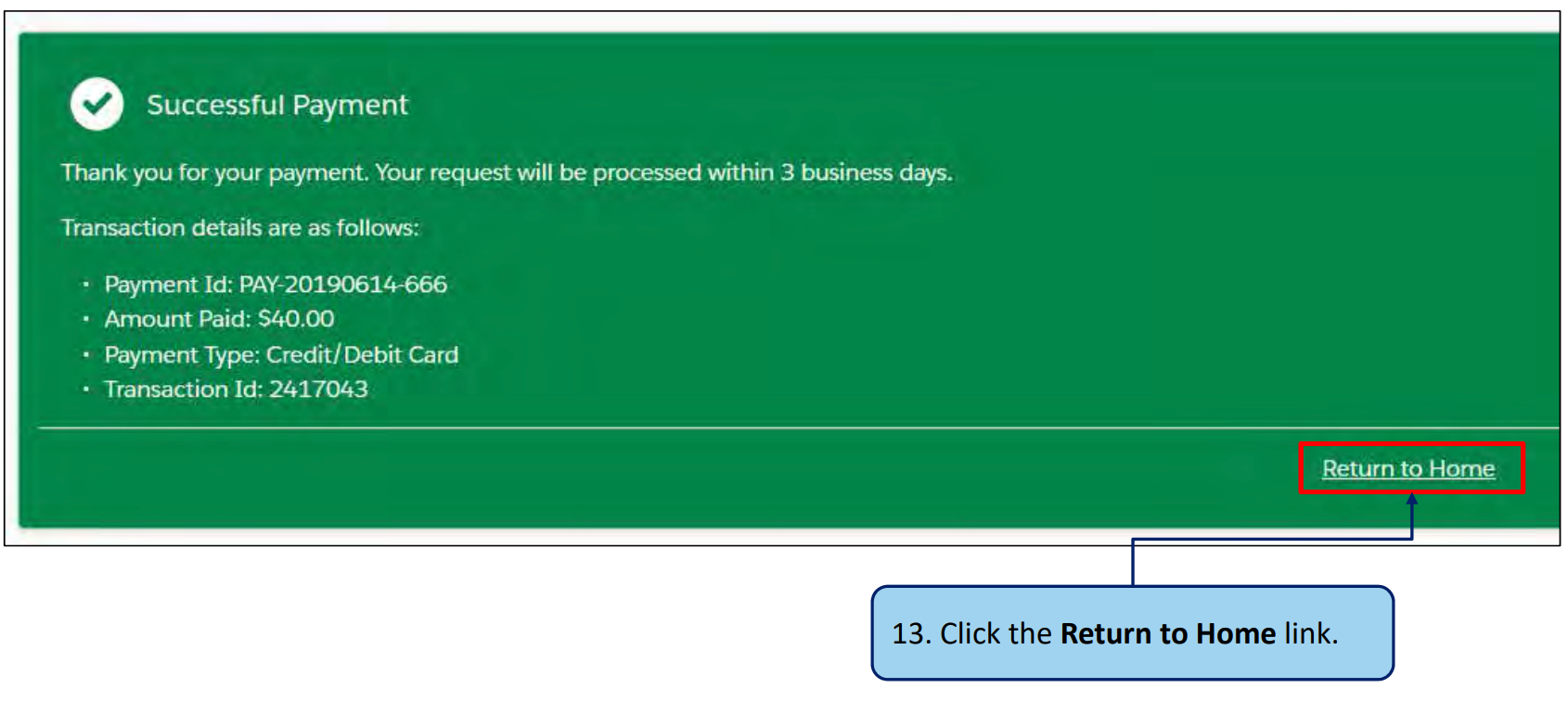 Your Service Request Dashboard will now show your submitted license transfer request and the status. Click

Download Service Request

to video more information for the request.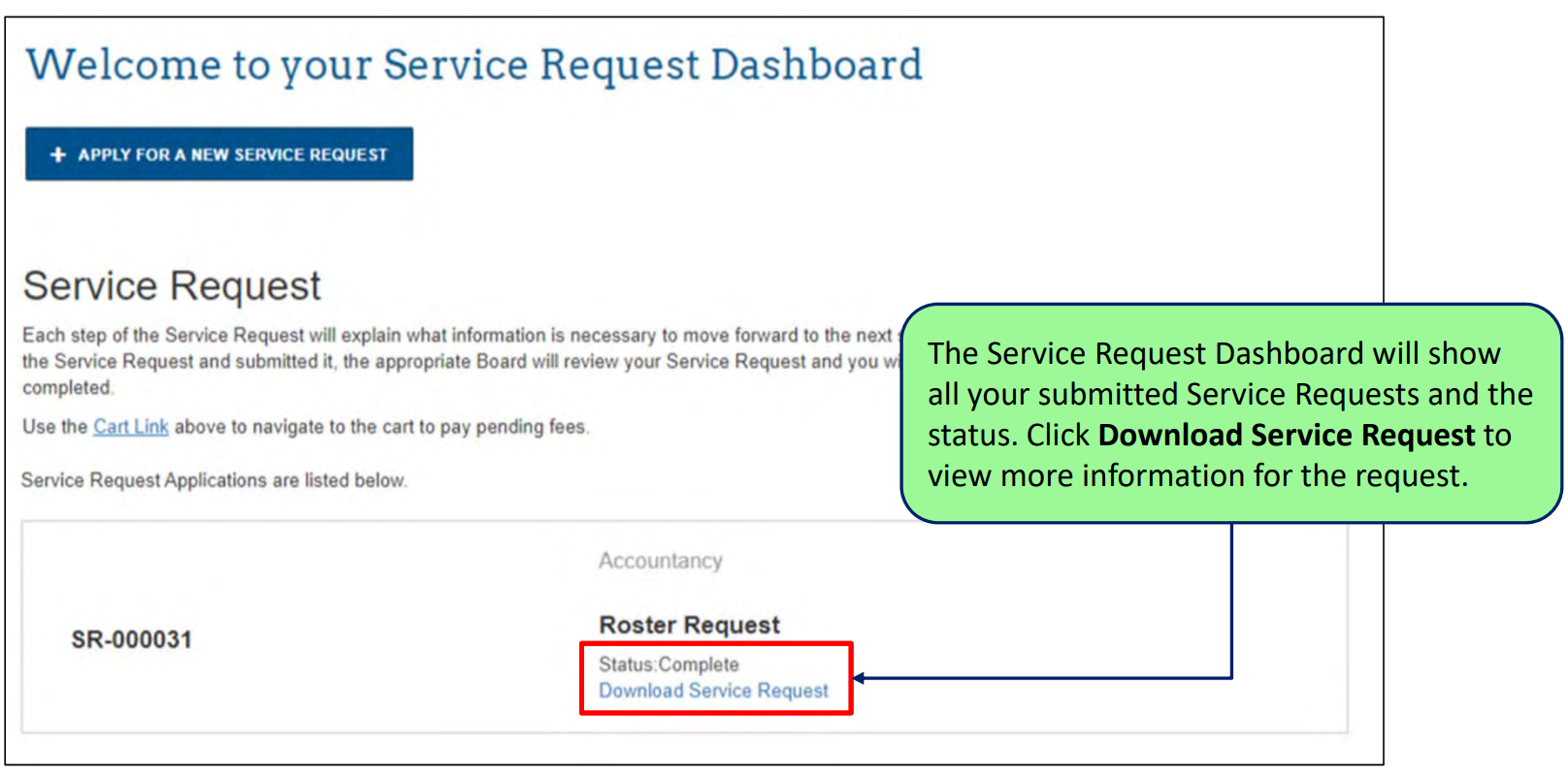 New Licensees
To apply for a license you must create your DELPROS user account. Go to the DELPROS online portal, and then click on Apply/Manage a License and Service Requests.
If you are already an existing user, login with your email address and password under the existing user section.

If you have not yet created a DELPROS user account, click on Register.
Once you have created your user account you will be logged into your DELPROS e-License Dashboard. Note: During the application process, you are required to either "upload" a required document or "acknowledge" a required "third-party" form for licensure.
Upload means you attach the required document directly to the online application.

Acknowledge means that you must verify to having arranged for the document(s) to be

mailed

directly to the Board office.

Third-party forms are documents such as transcripts from schools; employment verifications from a supervisor; or license verifications from another state that require a seal or notary. These forms

cannot

be uploaded directly to the online application but mailed directly to the Board office.
DELPROS allows you to save your incomplete application and return to it at a later time to finish the process. You only have six (6) months to submit your application once you begin.
If you do not submit your application within six months of starting it, you will be required to restart the entire online application again.
You may check the status of your application online throughout the entire application process by using the "View Application Status" feature in DELPROS on your e-License dashboard.
For more information on applying for a license, visit the Real Estate Commission Licensure section of the Delaware Division of Professional Regulation site.
After completing the above steps:
Your Designated Broker, Ray Petkevis, and the Onboarding Coordinator will receive a message from the DELPROS confirming the transfer OR notifying them to confirm the transfer.
New to Real? Look out for your welcome email once your license transfer is complete. This will include your Post-Onboarding Instructions, details on our Onboarding class, link to our Marketing Center and more!
Already a Real agent? Please email support@therealbrokerage.com and our support team will add your license to your existing reZEN account.