Need to enter a deal in reZEN for someone else?
First things first: you must have your profile setup correctly in reZEN. You should see a Team Listed in your Profile.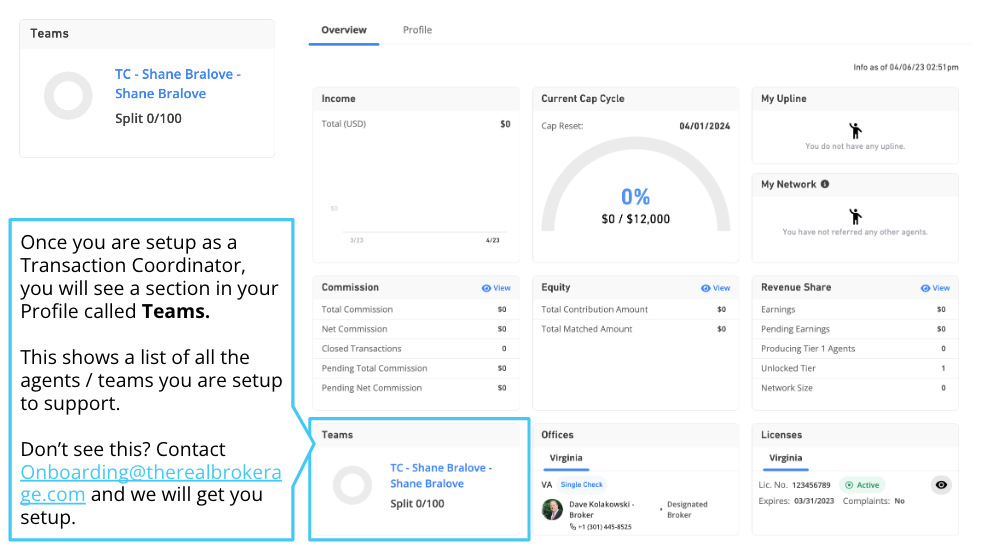 How to Enter a Deal in reZEN for someone else
It's easy to add deals to reZEN (the Real App) - and once you enter your deal, the Road to Success & Checklist make it easy to manage the transaction process.
Check out the video below to get a step-by-step walkthrough. You can keep reading for screenshots and detailed instructions.
STEP 1. Login to reZEN, and go to My Transactions. Then click + Add Transaction in the top right corner.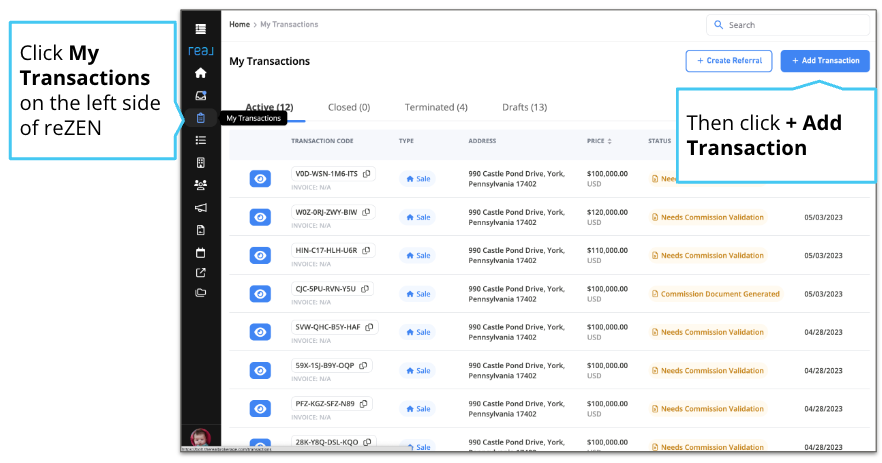 Step 2: reZEN will walk you through some questions to create the transaction in our system.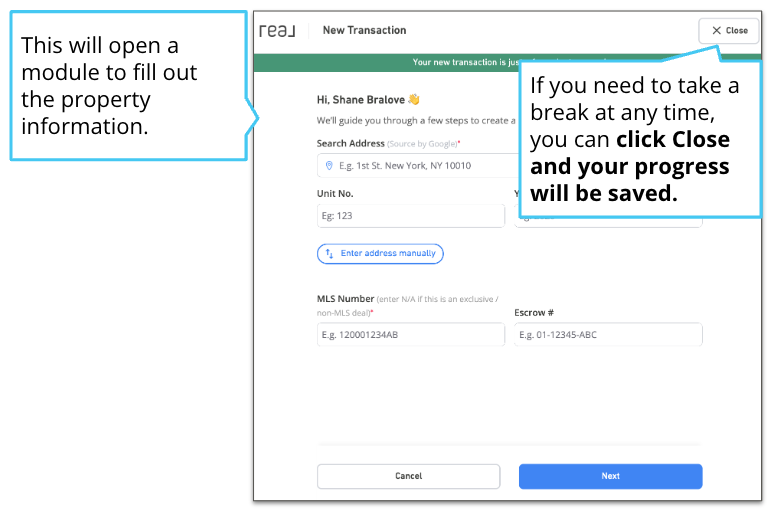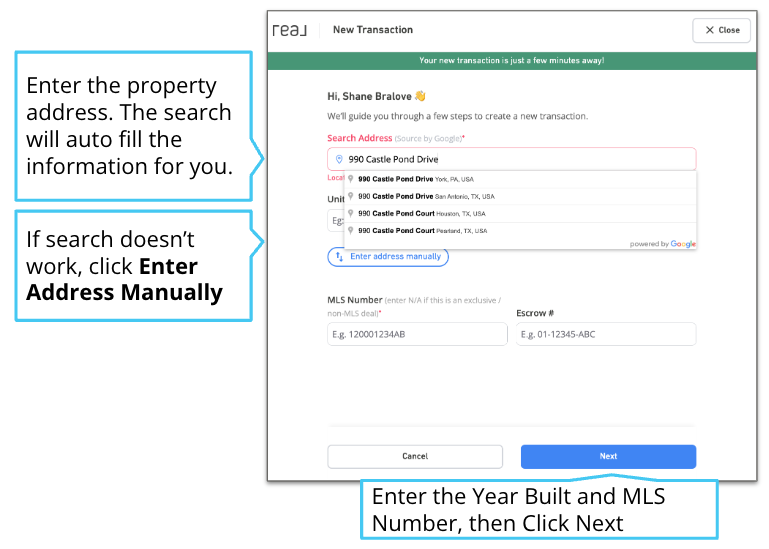 Step 3: Enter the transaction type, price, commission splits, and acceptance and closing dates.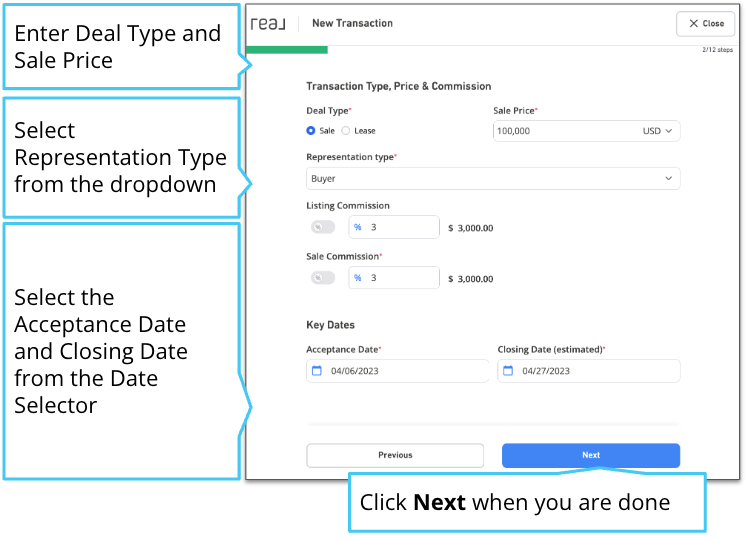 Step 4: Enter the buyer & seller information.
Step 5: Select the transaction owner from the dropdown.
If your dropdown is greyed out or you cannot see the agent you are working with, this means your account is not properly linked to that agent. P

lease reach out to onboarding@therealbrokerage.com

If you need to add another co-agents (team members, referrals), search from the dropdown and add them to the deal.

You do not need to add yourself to the deal. This will be done automatically.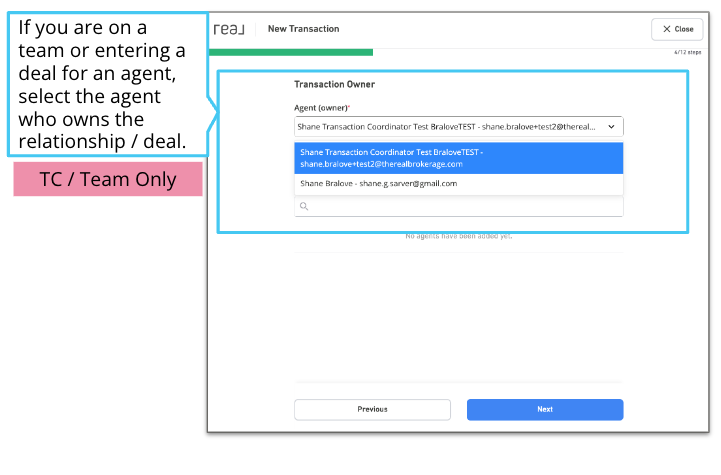 Step 6: Enter the other agent's brokerage information
Note: if this is a dual transaction, you will skip this step.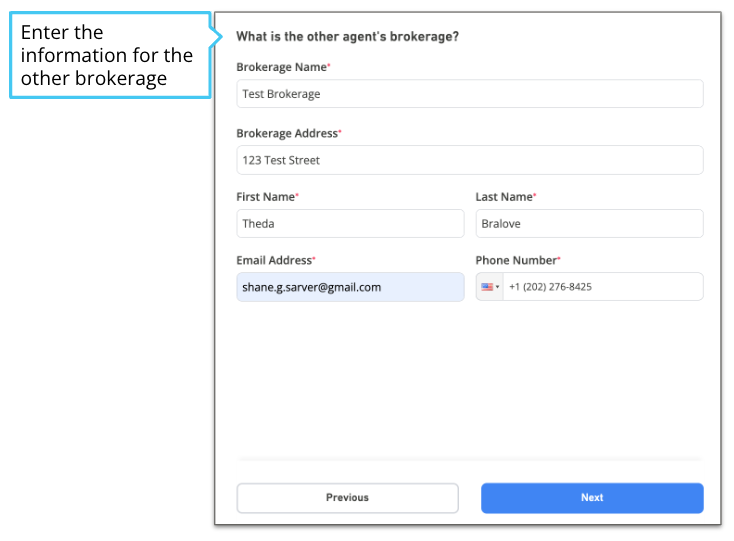 Step 7-8: If you have a Referral / OpCity Referral, enter it here.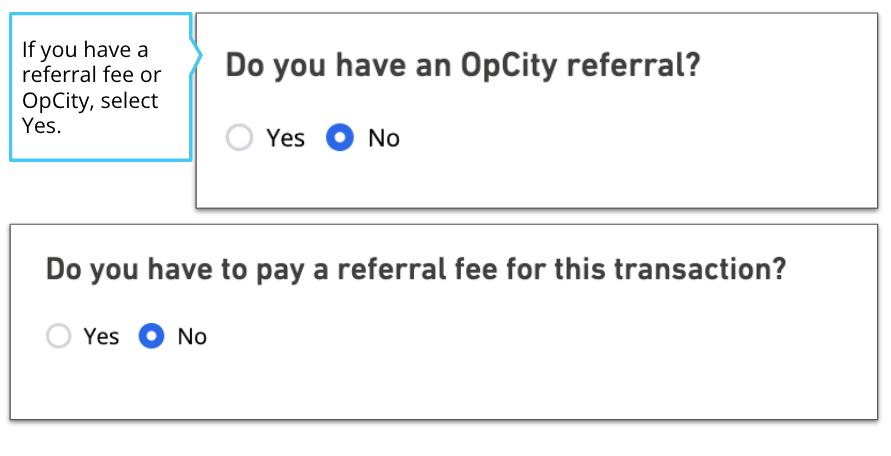 Step 9: Allocate the total commission.
If there is only one agent on the transaction, just enter 100%

If there are other Real agents, allocate the commission according to your agreement.

If this a dual-sided transaction, split according to the list/buy side commission breakdown

57% / 43% for a 4% listing, 3% buy transaction

50% / 50% for a 3% listing, 3% buy transaction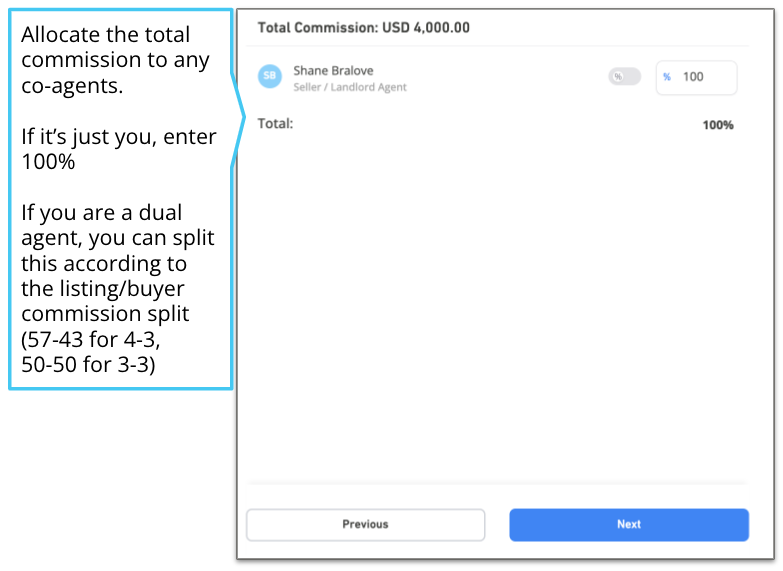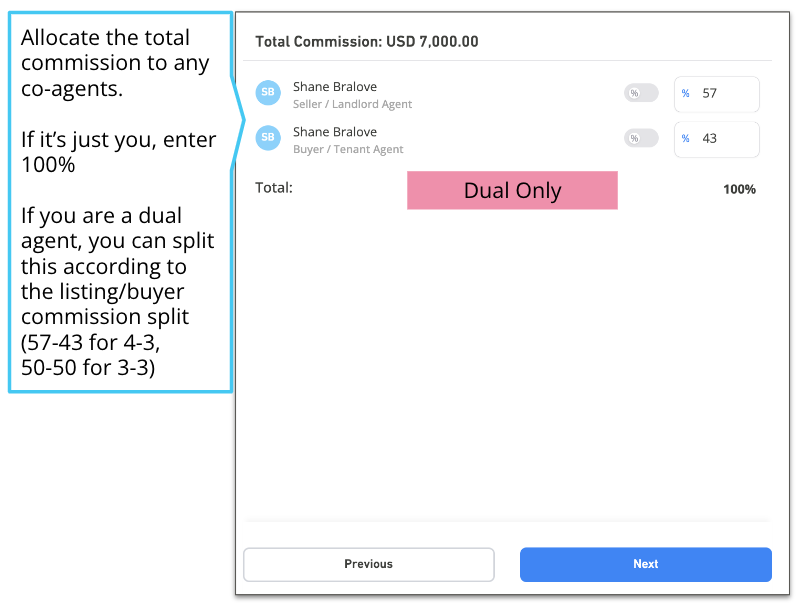 Step 10: If this is a personal deal, please select yes and enter information.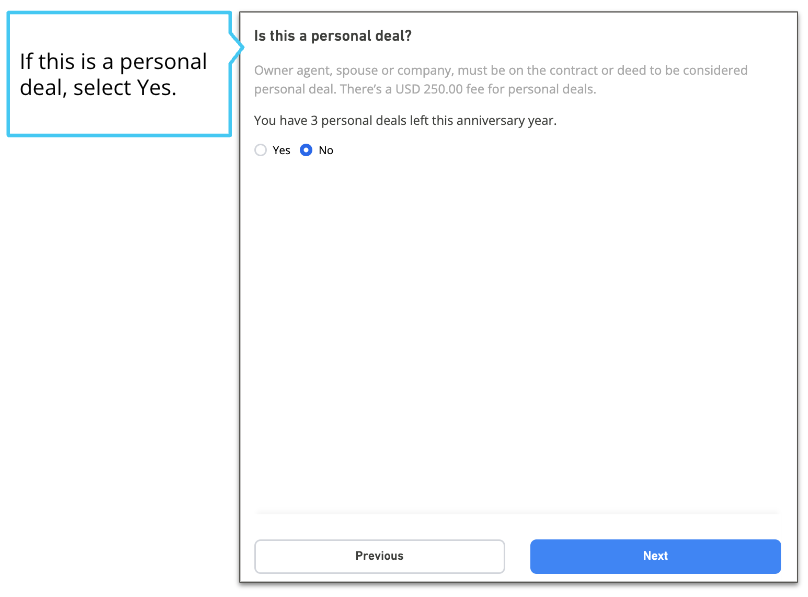 Step 11: If you have fees, rebates, or reimbursements to enter, add them here.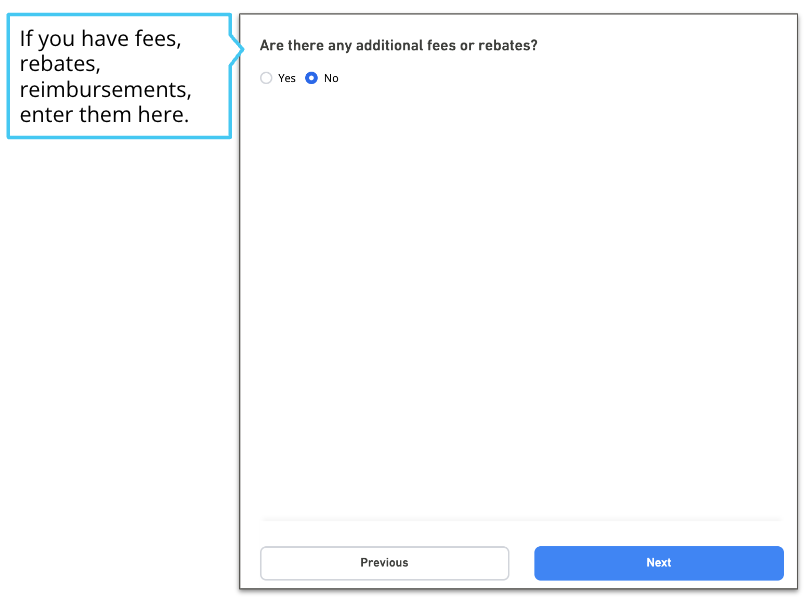 Step 12: Enter the information for Title / Escrow - or whoever will process the commission checks and click Next.
This is important because we will send the closing documents to this email address.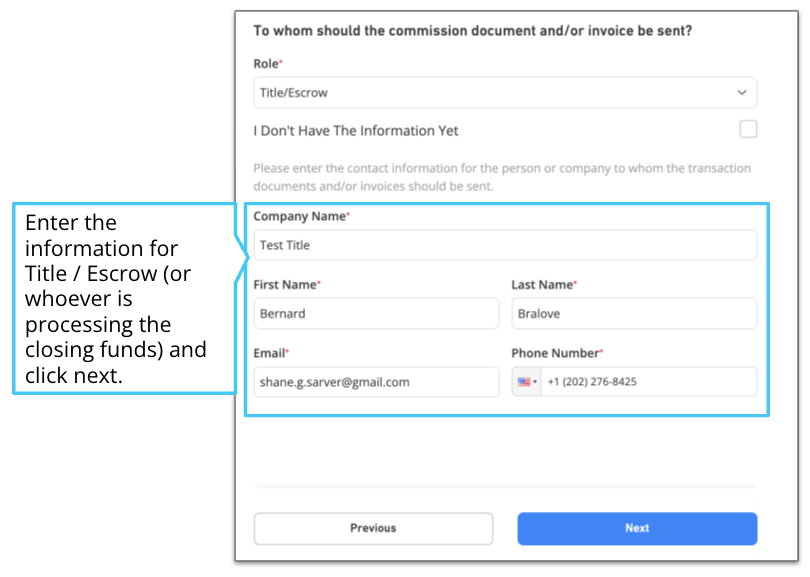 Step 13: Review all the information and click Create Transaction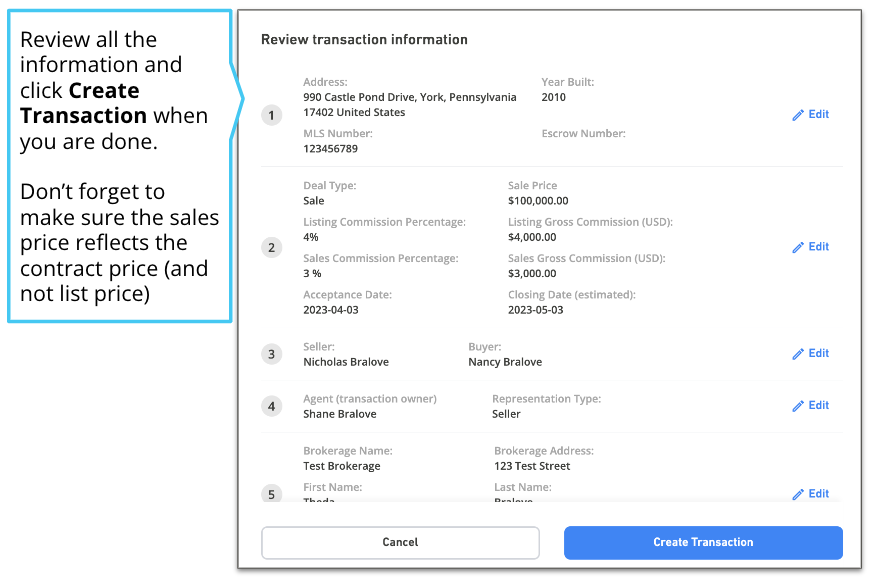 That's it! You're Done! Now that created the transaction, you can go to Step 2: Calculate & Approve Commission